Bloody Sunday Report published
Prime Minister David Cameron has made a statement to the House of Commons regarding today's publication of the Saville Inquiry into the events known as 'Bloody Sunday' which took place in Northern Ireland.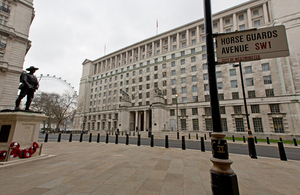 The inquiry, headed by Lord Saville, was set up to establish a definitive version of the events that took place in Londonderry on Sunday 30 January 1972.
The Prime Minister formally announced the report's publication in a statement to the House of Commons today. He said:
What happened on Bloody Sunday was both unjustified and unjustifiable. It was wrong.
Following the Prime Minister's statement, Chief of the General Staff, General Sir David Richards, said:
"> The Prime Minister has just made a statement about the Saville Inquiry, which has produced a full and detailed report of the events of Bloody Sunday.
I fully support the report's description of Bloody Sunday as 'a tragedy for the bereaved and the wounded, and a catastrophe for the people of Northern Ireland', and the report leaves me in no doubt that serious mistakes and failings by officers and soldiers on that terrible day led to the deaths of 13 civilians who did nothing that could have justified their shooting.
The Prime Minister has apologised on behalf of the Government of the United Kingdom, the Army and those involved on the day, and I fully support that statement.
We must never forget the tragic events of Bloody Sunday. In the thirty-eight years since that tragic day's events, lessons have been learned. The way the Army is trained, the way it works and the way it operates have all changed significantly.
We should also remember that the overwhelming majority of the military personnel deployed over 38 years in Northern Ireland conducted themselves with utter professionalism, restraint and humanity. The cost was high, with 651 Service personnel killed, and over 6,000 wounded. They played an important role in protecting the people of Northern Ireland, providing much needed stability and thereby helping to set the conditions for the peace Northern Ireland enjoys today.