News story
BIS funding leads to Academy Award nomination
A documentary from an Arts and Humanities Research Council (AHRC) funded project at the University of Westminster has been nominated for an Oscar.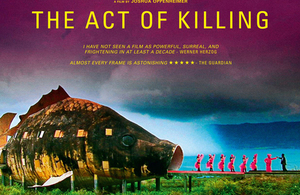 'The Act of Killing', a documentary which came about through an AHRC-funded project has been nominated for an 'Oscar' by the Amercian Academy of Motion Picture Arts in Los Angeles.
The film, part of the AHRC-funded Genocide and Genre research project at the University of Westminster explores the Indonesian genocide of the 1960s, telling the story of a group of former members of Indonesian death squads being challenged to revisit and re-enact their earlier crimes.
It focuses particularly on one individual, Anwar Congo, whose initial enthusiasm for the re-enactments slowly gives way to outward expressions of unease and remorse.
The project was supported by a large research grant from the AHRC.
To mark the occasion, the AHRC has launched a short film of an interview with the film's director Joshua Oppenheimer. Speaking in the film about the many awards and nominations received by The Act of Killing, the director says:
It's wonderful in two ways. When a film is difficult and has been made in a fundamentally different way and actually breaks through and gets mainstream acceptance that opens a space for more adventurous, more intelligent, more experimental work. It opens a way for film-makers to stand on the shoulders of the The Act of Killing and to try new things.

The awards are also a sign of the willingness of audiences to say, this is about all of us. This is not a case study of the depths of depravity that human beings are capable of on the other side of the world… This is a mirror to all human beings about the nature of impunity, about how we live with guilt, about how we create our world through storytelling.
Arts and Humanities Research Council (AHRC)
The AHRC is unique in the world as a national funding agency, supporting both arts and humanities research. It funds approximately £98 million each year of research among one quarter of the United Kingdom's research population. It is a non-departmental public body sponsored by the Department for Business, Innovation and Skills, along with the other UK Research Councils. The AHRC is governed by its Council, which is responsible for its overall strategic direction, and is incorporated by Royal Charter.
Each year it provide some 700 research awards, 2,000 postgraduate scholarships, and numerous knowledge transfer awards.
Recently published statistics for the UK's Creative Industries reveal that it is now worth £71.4 billion per year to the UK economy.
Published 20 January 2014