Birthday wishes and messages of support reach pro-democracy supporters in Rangoon
British Ambassador to Burma, Andy Heyn has handed 120 pages of birthday messages for Aung San Suu Kyi to her representatives in Rangoon.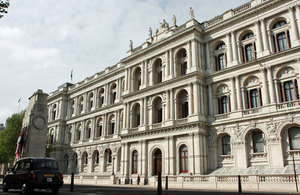 The messages were posted over a seven day period by well-wishers and activists through the Foreign Office's Burma Facebook page. They range from moving words of support to photographs of remembrance services and birthday parties held in Daw Suu Kyi's honour across the globe.
Minister of State responsible for Burma, Mr. Jeremy Browne MP presented these to Ambassador Andy Heyn at an event for NGOs and interest groups on 8 July for onward transmission to Aung San Suu Kyi's representatives.
In receiving the messages, Ambassador Andy Heyn said:
"Aung San Suu Kyi is a global symbol of moral courage and resilience in the face of repression. For the last twenty years she has been the heartbeat of Burma's pro democracy movement, sacrificing her own liberty and freedom to spotlight the plight of her impoverished people.
The response from the UK public and from people across the world on the occasion of her 65th birthday was amazing. I know that Aung San Suu Kyi and her supporters are thankful for your support. As Aung San Suu Kyi spends another year in detention, we again call upon the military government to accede to the international community's demands to release her and over 2,100 other political prisoners.
Burma's stability, security and prosperity can only be achieved through an inclusive process of national reconciliation in which Aung San Suu Kyi and other opposition and ethnic groups are allowed to play a full role."
Aung San Suu Kyi has spent 14 of the last 20 years under house arrest in Burma for advocating democracy and respect for human rights in her country. She is one of over 2,100 political prisoners currently being held in the country.
Speaking about Aung San Suu Kyi in June 2010, the Foreign Secretary William Hague said that:
"Her continued detention, and that of more than 2,100 other political prisoners in Burma, contravenes international human rights law and casts a long shadow over planned elections in the country. I urge the military regime to release all political prisoners immediately and unconditionally, and respect the human rights of Burma's people."
Published 4 August 2010