Birmingham and Fife commit to support members of the Armed Forces
Representatives from the Fife Partnership and the Armed Forces met yesterday, 21 February, in Glenrothes to sign Fife's Armed Forces Community…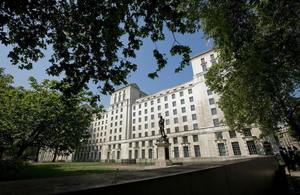 Representatives from the Fife Partnership and the Armed Forces met yesterday, 21 February, in Glenrothes to sign Fife's Armed Forces Community Covenant while at the same time Birmingham's civic leaders also joined with representatives of the Armed Forces in England's second city.
The important new agreements will build on existing good relations between the Armed Forces and public sector organisations in both Fife and Birmingham and follow several other such agreements signed in communities up and down the country.
The aim of the Community Covenant is to encourage organisations across the UK to support the Armed Forces community in accessing the assistance they might need.
In Fife, for example, this could include support from the charity and voluntary sector as well as organisations including Fife Council, NHS Fife, and Fife Constabulary.
In Birmingham, the Covenant will benefit both serving and ex-Service personnel, covering vital areas including housing, employment, education and health. Under the Covenant, the council will establish a set of principles which will set out how it will support veterans in making the transition back into civilian life.
In addition, as part of the Covenant, members of the Armed Forces will be encouraged to do as much as they can to support the communities they live in and promote activities which help integrate the Service community into civilian life.
The UK Government launched the Armed Forces Covenant in July last year and encouraged the introduction of Community Covenants between civilian communities and the Armed Forces based or living in their areas.
Councillor Peter Grant, Chair of the Fife Partnership, said:
Fife's Armed Forces Community Covenant will help to further strengthen the links with the Armed Forces in the Kingdom and build on other initiatives and good work already carried out in Fife.
The official launch gave the members of the Fife Partnership the chance to show their commitment to act together to support this important new agreement.
Meanwhile in Birmingham, Brigadier Mark Banham said:
The Armed Forces enjoy unparalleled support from the City of Birmingham across a wide range of disciplines. This is fostered through the close ties that exist between the units that are based across the city.

There is also national recognition of the role that Birmingham's Selly Oak has played in supporting our wounded and their families, which has carried on to the Queen Elizabeth Hospital. We are proud that this Community Covenant recognises those links and will carry our relationship into the future.
Published 22 February 2012