Biometrics Commissioner appointed
Alastair MacGregor QC has been appointed as the government's first Biometrics Commissioner, Lord Taylor of Holbeach announced today.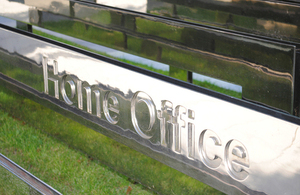 Mr MacGregor, who is currently Deputy Chairman of the Criminal Cases Review Commission, will scrutinise police and other authorities' use of DNA and fingerprint profiles and assess whether they are being used proportionately. He will ensure that the highest standards are upheld and will report his findings to Parliament annually.
Lord Taylor of Holbeach said:
'DNA evidence is a crucial tool in the fight against crime, but it must be used proportionately. The appointment of Alastair MacGregor to this important role will ensure the highest standards are upheld.
'Through the Protection of Freedoms Act we are restoring common sense to the system by ensuring only those convicted of a criminal offence will have their DNA retained indefinitely.
'Our changes will ensure DNA samples are taken from the guilty and disposed of when people have done nothing wrong.'
Alastair MacGregor QC said:
'I am very pleased to have been appointed Biometrics Commissioner.
'A key aspect of my role will be to provide independent oversight of the new regime established by the Protection of Freedoms Act to govern the state's retention and use of DNA samples, DNA profiles and fingerprints.
'That new regime seeks to strike a more appropriate balance between our rights and liberties as individuals and our shared interest in effective law enforcement and national security. My aim as the independent Commissioner will be to make it possible for the public to be confident that the new regime operates properly, proportionately and as Parliament intended.
'I look forward to working closely with the many bodies and groups who share that aim.'
His appointment is part of the Government's ongoing commitment to giving police effective and accountable tools to target criminals and continue to drive down crime.
Alastair MacGregor was called to the English Bar in 1974 and became a QC in 1994. He will take up the Commissioner post from 4 March.
Notes to editors
1. A DNA sample is an individual's biological material, containing all their genetic information.
2. The appointment is part of the Protection of Freedoms Act 2012.
3. For more information contact the Home Office Press Office on 020 7035 3535.
Published 4 March 2013