News story
Bill Crothers moving to a new role for next phase of commercial reform
Bill Crothers, Government Chief Commercial Officer, is moving to a new role.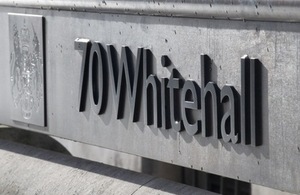 Bill Crothers has decided that it is the right time to move to the next stage of his career, and for someone new to take commercial reform in government forward. Bill led the work on commercial reform across government and set an ambitious strategy for the future. Bill's expertise will not be lost altogether; he will continue as a commercial advisor to help us improve our commercial capability and advise on our most complex deals. Over time, Bill will also take on some similar advisory roles in the private sector.
The government aims to continue improving its commercial capability, addressing findings from recent departmental reviews and building on the work from the past 5 years:
in September, 80 graduates will join a new Commercial Fast Stream
a number of experienced specialists will be recruited to work in some of the most important and demanding commercial roles in departments
the top 500 government officials working in commercial roles will go through a development centre to assess their needs to progress as commercial specialists
within the civil service, and for the first time in government, this will all be done to a set of professional standards
Bill will remain as Government Chief Commercial Officer for the transition and help to recruit his successor. Recruitment for this role will begin immediately.
Bill started his civil service career in the Home Office where he later became Group Commercial Director. In addition to this role, Bill became a Crown Representative before becoming Government's Chief Procurement Officer and later, Government Chief Commercial Officer, both based in the Cabinet Office. Bill led the formation of the Crown Commercial Service (CCS) in April 2014, and took additional responsibility as executive Chairman of the new CCS.
Cabinet Secretary and Head of the Civil Service Jeremy Heywood said:
The civil service has significantly improved its commercial skills over the past 5 years. Bill has played a vital role in helping us recognise the scale of the capability challenge and taking important first steps to tackle it. I want to thank him for these efforts, and for the expertise he has brought to saving money for the taxpayer in commercial negotiations.
Chief Executive of the Civil Service, John Manzoni, said:
Bill has contributed hugely to driving commercial common sense into everything we do. His unstinting energy in assisting officials across Whitehall to reach the right commercial deal, drive maximum value for money for the taxpayer, and to build commercial skills across government, will be missed.
Bill Crothers said:
I've hugely enjoyed leading the Commercial Function in its set-up stage, and I'm very proud of the improvements we've already seen in government's commercial capability. Now is therefore the right time for me to change role and let someone new lead the implementation of the next phase.
Published 30 July 2015