Big Society plan for a new culture of generosity
The Cabinet Office has today published the Giving Green Paper with ideas for building a stronger culture of volunteering.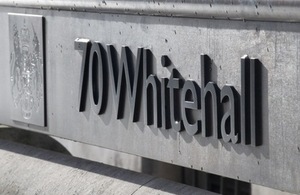 The Cabinet Office has today published the government's initial ideas for building a stronger culture of giving time and money. The ideas aim to start a national debate on our society's attitudes to giving.
The Giving Green Paper proposes a new role for government as a facilitator of giving, making it easier for philanthropists, volunteers and charities to form partnerships.
The government wants to develop low-cost but highly effective ideas for large organisations to support charities. One idea is to give publicity to our partner charities on government websites. Another is to open up buildings that are under-used to charitable activity.
Other major policy proposals in the paper include:
A £50million Community First Fund to invest in local savings schemes that pay out small grants well into the future in the most deprived areas. It will match contributions from local donors to encourage more giving. 
A £10million Volunteer Match Fund to double the benefit of private donations to voluntary projects.
Harnessing new technology. Including working with mobile phone companies to encourage charitable phone applications. Also talking to banks about donations through ATMs and widening access for people to make small charitable donations when paying for goods by cards.
Encouraging a new focus reciprocal giving with ideas like setting up an ebay style online community where people can trade time.
A government review of the relationship between financial incentives and giving.
Support to encourage charitable giving in schools.
Francis Maude Minister for the Cabinet Office, said:
Big Society is about creating a country in which people are in control. People giving time, money, assets, skills and knowledge all drive social action and help make life better for all. This Green Paper offers practical common sense ways we can boost charitable giving. And it's just the start. We think government can also have a new role, bringing people together to find new ways to support charitable and voluntary action and highlighting the excellent work that is happening already.

We are arguing for new social attitudes that celebrate giving. Talking about what we do for good causes is often seen as vulgar. But sharing experiences can inspire others. Giving is too often caricaturised as worthy and selfless, a one way street, but there's nothing wrong with doing things for each other and repaying kindnesses. If we can agree as a society the values that underpin helping each other we can unlock huge potential for a stronger, bigger society.
The Green Paper is open for consultation and we're encouraging anyone who has views on how our society should support charitable giving to get in touch. The consultation will close on 9 March 2011, responses can be made by emailing giving@cabinet-office.x.gsi.gov.uk.
The findings of the consultation will feed into a White Paper for publication next year.
Read more: Giving Green Paper
Published 29 December 2010