Press release
Big Society Minister backs small charity Christmas appeals
Minister for Civil Society Nick Hurd has urged people to remember their local charities this Christmas.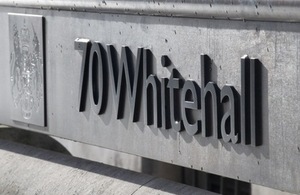 Minister for Civil Society Nick Hurd has urged people to remember their local charities this Christmas.
Earlier today Nick Hurd and Chief Executive of the National Association for Voluntary and Community Action (NAVCA) Kevin Curley travelled to SMART in Kensington and Chelsea to support a small London charity's Christmas appeal.  
SMART (St Mary Abbots Rehabilitation and Training) has helped hundreds of people with long term mental illness gain new skills and find employment. They run a cafe and offer training in skills as diverse as IT and floristry. 
This Christmas, like many small charities, SMART is appealing for time, money and other gifts to bring a bit of cheer to the people it helps all year round. The charity also sells wreaths and cards made by its members to raise funds. Small charities rely on the generosity of local people with around 67% of funds coming from public donations compared to 38% for big organisations.
Nick Hurd Minister for Civil Society, said:
Over Christmas charities large and small will be taking care of people who need help. Small charities often go unnoticed which is a shame because they make such a huge difference. We all have a responsibility to help make the places where we live a little better and giving to a local charity is a great way to go about it.

SMART in Kensington and Chelsea, is a wonderful small charity that is valued highly by all the people that live in the area. I'm very pleased to be here with Kevin Curley, who represents charities like this across the country, to support SMART's Christmas Appeal. I wish them the very best success.
Kevin Curley, Chief Executive of NAVCA, said:
Local Charities and community groups couldn't exist without the support of local people and local businesses. SMART is a great example of just how much a local charity can do with a relatively small amount of money. I hope people will consider how they can support charities and community groups in their area, by giving either money or their time.
Amelia Mustapha, Director of SMART, said:
For £250 we can open on Christmas day and feed forty people. Funding is tight for charities like us at the moment but we don't waste anything so I think we will be alright. It's great to have Nick and Kevin here to support us and other local charity Christmas appeals across the country.  People do want to help, they just need to know we're here.
People wanting to give to local charities can find out what's in their area at: www.localgiving.com.
Published 21 December 2010