Big Society drive to boost local social action begins
The £80 million Community First fund, which will provide small grants to community groups and local social action projects, opened today.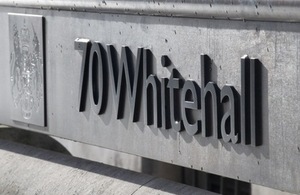 The £80 million Community First fund, which will provide small grants to community groups and local social action projects, was opened today by Nick Hurd Minister for Civil Society.
This comes in the same week that the first of 5,000 people to be trained as Community Organisers took up post. These are two flagship Big Society initiatives which together will encourage people to do more to help each other out and give them the tools they need to make a difference.
Nick Hurd, Minister for Civil Society, said:
People are frustrated about not being able to make a difference in the communities in which they live. This is especially true in areas of high deprivation that have been failed, again and again, by ineffective programmes that are imposed without an understanding of the unique problems in each area.

Community Organisers and Community First will allow local people to work together, take control of their lives and create the change they want to see. We're giving power back to people and supporting them to make their communities better places to live. This is part of a much wider drive to help revive social action and build a bigger, stronger society.
A Community First website has been opened today which invites people to sign their community up to receive support. Funding will be handed out by panels of local people so communities decide what's important to them. The fund is divided into two strands. £30 million will be used to provide small grants. The remaining £50 million will be used to match private donations invested in community endowment funds which will pay out money for small grants well into the future.
The first Community Organisers took up post this week. They have begun a twelve month training programme based in local community groups in eleven places in England supported byy Locality, the Government's national partner. They are learning the skills they need to identify local leaders and bring people together to act on what matters to them, including using new powers devolved from government to citizens. They will play an important role organising communities to take advantage of Community First funding. A total of 5,000 Community Organisers will be trained from now to 2015.
Alison Seabrooke, Chief Executive of CDF, the organisation running Community First, said:
CDF is delighted to launch Community First. With over 40 years of experience in supporting communities, we know that funds invested at a local level can have real impact in helping people make improvements to issues that matter to them. By incentivising people to match funds through time and other contributions, Community First will catalyse community action to make local improvements to neighbourhoods.
Jess Steele, Director of Innovation at Locality, the organisation running the Community Organisers projects, said:
I've just come back from the residential course which marks the start of the community organisers' training year, and I was so impressed by their dedication, knowledge and sheer enthusiasm. They are going to be able to make a huge difference to their communities. By the time the Community Organisers programme is complete, we will have organisers working in communities - often some of the country's most deprived ones - all around England.
Community Organisers
The first 47 community organisers have been recruited by host organisations from 11 communities. These 11 Kickstarter hosts were selected by Locality to be part of the pilot stage of the programme, chosen because of their experience and capacity to hit the ground running. The 11 Kickstarter hosts are:
Barton Hill Settlement, Bristol
Birmingham Settlement, Birmingham
Cambridge House, South London
Community Links, East London
Goodwin Development Trust, Hull
Keystone Development Trust, Norfolk
Kirkgate Arts, Cockermouth, Cumbria
Manchester Metropolitan University, Manchester
Penwith Community Development Trust, Penzance, Cornwall
St Peter's Partnerships, Tameside, Greater Manchester
Marsh Farm Outreach, Luton
Community Development Foundation (CDF) is a charity and social enterprise that is passionate about helping communities. Leaders in community-led solutions, they have managed multi-faceted community programmes to the value of £250m over the last five years. CDF delivered the £130m Grassroots Grants programme.  They are also working with six partners to set up a new organisation that will manage the Big Local Trust and deliver the Big Local programme on behalf of the Big Lottery Fund. The new trust will be endowed by the Big Lottery Fund with £200m to work with up to 150 local areas over 10 years. Other national programmes they have led include Take Part, National Empowerment Programme (NEP), Tackling Race Inequality Fund, and Faiths in Action.
Published 6 October 2011