News story
Big opportunities ahead for UK Rail Supply Chain
Newly-formed Rail Supply Group to be given £500,000 of funding to help rail suppliers secure new business at home and internationally.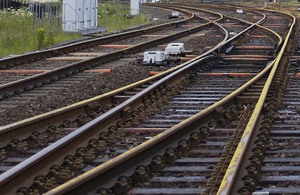 Rail industry suppliers are set to benefit from government investment to help them win new business, create jobs and generate economic growth, ministers have announced.
With £38 billion being invested in the UK's rail infrastructure over the next 5 years and a similar wave of investment overseas, the Department for Transport will invest £500,000 to help rail suppliers secure new business at home and internationally.
The funding will be provided to the newly-formed Rail Supply Group, which aims to bring government and the industry together to address the challenges and opportunities facing the UK supply chain.
The group, headed by Transport Secretary Patrick McLoughlin, Business Secretary Vince Cable and Terence Watson, president of rail manufacturers Alstom UK, will also work with the industry to develop a mentoring scheme to help small and medium-sized businesses compete against more established firms. The scheme, supported by the Rail Alliance and the Rail Supply Group's member companies, will work with up to 500 firms in the first year.
Patrick McLoughlin, Secretary of State for Transport, said:
We are investing record amounts in building a world-class railway in this country, with major infrastructure schemes such as Crossrail, Thameslink and HS2. Other countries are also investing heavily in rail and metro systems, which also represent a massive opportunity for UK suppliers to generate jobs and growth at home. Through the Rail Supply Group we are determined to give them the support they need so they can respond to this global demand and secure long-term economic growth.
Vince Cable, Secretary of State for Business, Innovation and Skills, said:
I have been working with the Transport Secretary to support the rail industry and boost its competitiveness as part of our Industrial Strategy. There will be significant investment in rail over the next 20 years, bringing considerable growth opportunities for UK-based companies if we can create the right conditions. Key to this is strengthening our supply chains so rail technologies and products are sourced in this country rather than overseas. By working together with business over the long term, we can build confidence to invest, grow and create British jobs in one of our most important sectors.
The UK's rail network is currently undergoing the biggest programme of modernisation since Victorian times, with more than £38 billion being invested in infrastructure and capacity improvements over the next 5 years.
The rail sector contributes £7 billion a year to the UK economy and is experiencing an investment boom on the back of a doubling of passenger journeys since the mid-1990s. This sector is supported by a supply chain of around 80,000 workers and 3,500 firms.
Similar investments are being made overseas, creating a raft of opportunities for UK suppliers.
Martin Griffiths, Chairman of the Rail Delivery Group and Chief Executive of Stagecoach Group, said:
Our railway has been transformed over recent years into the EU's most improved network, thanks to a combination of private sector innovation and government policy. A strong supply sector is key to our future success and as the companies who operate the railway in Britain, we look forward to working with the Rail Supply Group to make Europe's best railway even better.
Significant future growth in freight and passenger traffic is expected, enhanced by major infrastructure works such as HS2, Crossrail, Thameslink, London Underground upgrades and the electrification of key rail routes across England and Wales.
Terence Watson, Rail Supply Group industry co-chair, said:
The products and technologies of the rail industry are delivering huge benefits for society through faster, more frequent, increased capacity and more energy efficient solutions. Growing the sector in the UK is critical for the economy, social progress and the environment. We want the UK to attract inward investment and, smartly done, this will benefit local supply chains, while our best suppliers will also be our best long term partners.
Mark Carne, Chief Executive Network Rail, said:
Closer collaboration with the railway supply chain will accelerate innovation and drive competitiveness. This is why Network Rail is strongly supportive of the formation of the RSG.
The Rail Supply Group Council - comprising ministers, rail industry business leaders and senior representatives from the Department for Transport and the Department for Business, Innovation and Skills – met for the first time on Wednesday (18 June). They agreed the following 5 priorities in order to achieve its vision of increased UK competitiveness both home and overseas, which are:
exports and inward investment: promoting UK companies abroad and attracting international business to the UK
innovation: helping UK companies develop, demonstrate and commercialise new technologies
Skills: promoting rail as a career choice, raising skill levels across the industry through the National Skills Academy for Railway Engineering (NSARE).
SMEs: helping small and medium sized businesses access markets and funding
HS2: developing a future pipeline of work that draws on industry best practice
The £500,000 of funding for the RSG will be provided by the Department for Transport through the FutureRailway programme.
For more details on the SME mentoring scheme, contact the Rail Alliance at info@railalliance.co.uk
Contributors to setting up the group included:
Alstom
Amey
Atkins
Babcock
Balfour Beatty
Bombardier
Carillion
Costain
Department for Business, Innovation and Skills
Department for Transport
First Group
FutureRailway
Hitachi
HS2 Ltd
JCP Consultancy Ltd
Network Rail
National Skills Academy for Railway Engineering
Omnicom
Perpetuum Ltd
Porterbrook
Rail Alliance
Rail Delivery Group
Railway Industry Association
Siemens
Elite KL
South West Trains.
Published 19 June 2014