News story
Bidding for Human Rights Strategic Programme Fund starts
The British Embassy in Beijing is pleased to announce a call for bids to the FCO's Human Rights and Democracy Strategic Programme Fund.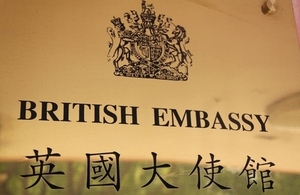 This fund aims to make a difference to people's lives by helping to build the capacity of governments and civil society to promote and protect human rights. In China, the thematic priorities for the financial year 2014-15 will be:
Global torture prevention
Abolition of the death penalty
Promotion and protection of freedom of expression
Upholding freedom of religion and belief
Combating discrimination against women
Business and human rights
If you are interested in making a bid to the Fund, please download the Strategy, the Concept Stage Guidance for implementers, and the Project Concept Form, and familiarise yourself with our terms and conditions. After reading through these documents, if you have any project ideas which fall within the scope of this call for bids, or any queries, please send a brief outline to VLR-Enquiry@fco.gov.uk as soon as possible. We'll be in touch with you soon to discuss next steps. Please note that the SPF team in London cannot accept bids submitted to them directly – your bid must be submitted through the Embassy in order to be considered.
The deadline for submitting concept bids is 17:00 (Beijing time) on Friday 28 February.
Published 6 February 2014