Better standards for Apprenticeships
Tougher standards introduced by Skills Minister to drive up quality.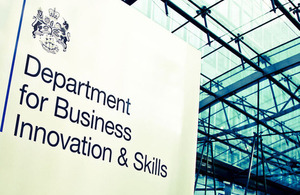 Skills Minister John Hayes has announced that Apprenticeships will last for a minimum of 12 months, guaranteeing improvements in training and workplace learning.
The new standards will come into force for all age groups from August 2012, subject to consultation with providers and employers.
For those aged 19 and over, apprenticeships will last between one to four years unless prior learning or attainment has been undertaken.
Commenting on the new measures, Mr Hayes said:
"The momentum we have created by building the apprenticeship brand has brought about unprecedented success for the apprenticeship programme.
"The majority of apprenticeships are the gold standard in vocational training. They boost individuals' life chances and build the skills that drive growth.
"They also provide a great return on public money. This has been independently recognised with the National Audit Office finding that apprenticeships generating £18 for the economy for every £1 spent.
"But we must be relentless in our drive to ensure all apprenticeships are as good as the best, to identify and root out any instances of poor quality provision, and to raise the bar on standards.
"We are taking strong and decisive action to tackle short duration so all apprentices receive high quality training and workplace learning setting them on the road to a long, rewarding career."
Grants for Small Businesses Employing Their First Apprentice
From Monday 2 April small businesses (employing less than 250 employees) will be able to apply for a grant, up to a value of £1,500, when they recruit their first apprentice.
The National Apprenticeship Service (NAS) is offering up to 40,000 Apprenticeship Grants to businesses who take on an apprentice aged 16 to 24 years old.
Those businesses interested in employing their first apprentice can contact one of the quality assured training providers or colleges approved to deliver Apprenticeship training by visiting the National Apprenticeship Service, or if they are ready to recruit, can call 08000 150 600 to speak to a NAS Apprenticeship Adviser.
Links
Published 2 April 2012