News story
Better Regulation Delivery Office starts work today
BRDO has been formed from the Local Better Regulation Office, with expert staff continuing the operation of Primary Authority business engagement…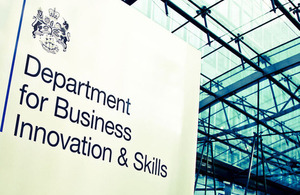 BRDO has been formed from the Local Better Regulation Office, with expert staff continuing the operation of Primary Authority business engagement and developing practical tools for regulators.
This move is designed to strengthen enforcement by bringing local practice nearer to central regulation policy-making. It will also remove an arm's length body, thereby delivering cost savings.
Business and Enterprise Minister Mark Prisk said:
"I welcome BRDO staff and the expertise they will bring to the drive to improve regulation for frontline businesses. Working alongside the Better Regulation Executive, they will help to deliver a coherent programme of regulatory reform, and help British firms get on with running their business."
BRDO is working towards a clear and easily understood regulatory environment in which businesses have confidence to invest and grow, and citizens and communities are properly protected. BRDO works with business and regulators to improve the way they experience regulation on a day-to-day basis by:
* Operating and extending Primary Authority
* Simplifying regulatory delivery
* Providing a forum for business engagement
* Providing policy advice to Ministers on effective regulatory delivery
* Working with Local Enterprise Partnerships to improve regulation at the local level.
---
Notes to editors:
---
In May 2010, the Government announced a new approach to regulation: to reduce the burdens felt by businesses and create a business environment that promotes growth and enterprise. The Government consulted on proposals to changes to the enforcement regime and its response can be found here: http://www.bis.gov.uk/Consultations/transforming-regulatory-enforcement-discussion?cat=closedwithresponse

The Government carried out a comprehensive review of public bodies in 2010 as part of the commitment to radically increase the transparency and accountability of all public services. The review of the Local Better Regulation Office concluded there were advantages in it ceasing to operate as a Non-Departmental Public Body and instead moving to become part of the Department for Business, Innovation and Skills (BIS).

BRDO is based in central Birmingham. Its remit covers the whole of the UK and it liaises with the devolved administrations. More information can be found here: http://www.bis.gov.uk/brdo

Primary Authority gives companies the right to form a statutory partnership with a single local authority, which then provides robust and reliable advice for the business, and for other councils to take into account when carrying out inspections or dealing with non-compliance.

The Better Regulation Executive (BRE) has been instrumental in putting the coalition's strategy on reducing regulation, in place. These are the policies and initiatives which have been designed to:

bring about a steady change of culture across government, so that regulation is seen as the last resort and alternatives to regulation are first considered
reduce the regulatory burden to business and civil society organisations.

BIS is currently running the 'Focus on Enforcement' campaign which is asking business to tell us where enforcement can be improved, reduced or done differently and to discover and celebrate where it works well, so others can learn from it. The first three reviews were announced at Budget and will cover chemicals, small businesses in food manufacturing and volunteer events. These reviews will begin work in April and further details will be made available soon. More information is available at: http://discuss.bis.gov.uk/focusonenforcement

BIS's online newsroom contains the latest press notices, speeches, as well as video and images for download. It also features an up to date list of BIS press office contacts. See http://www.bis.gov.uk/newsroom for more information.
Notes to Editors
Contact Information
Name BIS Press Office Job Title
Division COI Phone
Fax
Mobile
Email NDS.BIS@coi.gsi.gov.uk
Name Aidan Steer Job Title
Division Department for Business, Innovation and Skills Phone 020 7215 5245 Fax
Mobile
Published 2 April 2012