Press release
Better not bigger: Hammond creates south east airports taskforce
New taskforce to improve south east airport operations.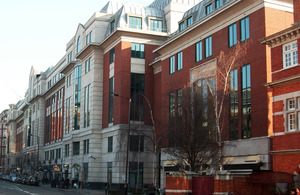 A drive to reduce long queues and the number of delayed flights was announced today (15 June 2010) as Transport Secretary Philip Hammond unveiled a new group tasked with improving operations at the major south east airports. It will be made up of key players from the aviation world and chaired by Aviation Minister Theresa Villiers, with the initial focus on Heathrow, Gatwick and Stansted.
Transport Secretary Philip Hammond said:
This marks the start of a new chapter in our aviation policy. I have a clear vision for our airports which sees greater reliability, shorter queues, less hassle and better services for passengers. It is absolutely crucial that we get this right as aviation is vital to our national economy.

We have been clear in our opposition to additional runways at Heathrow, Gatwick and Stansted, so the challenge we face now is making them better within existing runway capacity constraints. Working together with key partners within the aviation community, this group will look at how to secure the successful future of aviation in the south east and Heathrow's hub status within the constraints of the existing runways.

Our vision is for better not bigger airports, with new investment targeting improvements in reliability and passenger experience.
The group features representatives from airlines, airports, passenger groups, business, environmental groups and other industry bodies such as the Civil Aviation Authority and NATS.
Today's (15 June 2010) announcement complements the government's separate commitment in the Queen's speech to reform the economic regulation of UK airports, which should help to drive investment in existing airport facilities and improve performance to benefit passengers.
Notes to editors
Members invited to take part in the group are:
Minister of State for Aviation, Theresa Villiers (Chair)
BAA Heathrow
GIP Gatwick
BAA Stansted
CAA (Civil Aviation Authority)
NATS (National Air Traffic Services)
BA (British Airways)
Virgin Atlantic
EasyJet
Ryanair
London First
AUC (Air Transport Users Council)
AOA (Airport Operators Association)
AEF (Aviation Environmental Federation)
The first meeting of the group is expected within the next month, at which the precise terms of reference will be agreed. These will then be available on the DfT website.
Aviation and maritime media enquiries
Media enquiries 020 7944 3021
Out of hours media enquiries 020 7944 4292
Switchboard 0300 330 3000
Published 15 June 2010