News story
Better broadband for businesses as market testing begins on Connection Vouchers scheme
Businesses in 5 cities can now apply for grants to cover cost of installing faster and better broadband.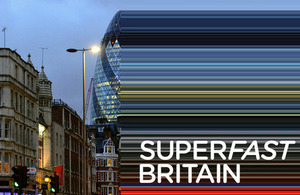 A two month market test of the Connection Vouchers scheme, part of the government's Super-Connected Cities programme, is now under way. The scheme will allow businesses to apply for grants of up to £3,000 to cover the costs of installing faster and better broadband into their premises.
The vouchers scheme aims to stimulate the broadband market to improve digital connectivity in participating cities. It particularly aims to benefit small and medium enterprises (SMEs), helping cities to create and attract new jobs and investment, and make the UK a more attractive place for companies to locate and do business.
First 5 cities to benefit
We have been working closely with a handful of cities who have demonstrated that they have the plans in place to take part in the initial market test.
These 5 cities are:
Cardiff
Belfast
Edinburgh
Manchester / Salford
These cities have demonstrated that they meet a set of criteria, including having a credible 'demand stimulation' plan in place (to inform businesses about the benefits of getting better broadband) and demonstrable and diverse interest from the supplier market.
Find out more about the scheme and eligibility on the connection vouchers website at www.connectionvouchers.co.uk
Super Connected Cities: top facts
In 2011, the government set aside £100 million for an Urban Broadband Fund (UBF) that will create up to ten 'super-connected' cities across the UK. This was followed in 2012 by a further fund of £50 million for a 'second wave' of cities to benefit from this programme

The super-connected cities will benefit from increased access to faster and better broadband, and large areas of public wireless internet (wifi) access

Having fast connections in existing commercial centres will help to create new business opportunities and support economic growth across the country

The super-connected cities were announced in two waves. The first wave, announced in March 2012, included: Manchester, Birmingham, Bristol, Belfast, Newcastle, Leeds and Bradford (joint proposal), Edinburgh, Cardiff and London

We announced the second wave of super connected cities in December 2012. They are: Aberdeen, Brighton and Hove, Cambridge, Coventry, Derby, Derry/Londonderry, Newport, Oxford and Perth
Further information
Published 5 August 2013