Better access to work for disabled people
Changes to Access to Work, a disability employment programme, to give disabled people faster and simpler support into work.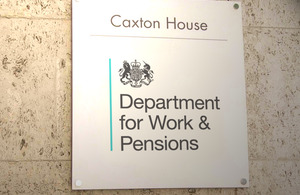 Today the Government is announcing changes to Access to Work, a disability employment programme, to give disabled people faster and simpler support into work.
Access to Work provides financial help towards the extra costs faced by disabled people in work, where this goes beyond what would be reasonable for an employer to meet.
From today, disabled jobseekers will be able to find out immediately if they're eligible for Access to Work support by completing a short on-line questionnaire at Directgov.
If eligible, they will be able to print off a new "Pre-Employment Eligibility Letter" which will help build their confidence when applying for jobs and can be shown to prospective employers.
Minister for Disabled People, Maria Miller said:
Disabled people should have exactly the same choices and opportunities as non-disabled people and that includes making sure they have the same opportunities to find and stay in work.

Our changes to Access to Work will give disabled people the confidence to apply for jobs, safe in the knowledge that they are already eligible for support. Employers will also be reassured that support is available towards costs beyond what is reasonable for them to meet.
Further changes to Access to Work include from April 2010 larger employers being asked to contribute more towards some adaptations and equipment, which has permitted smaller employers to contribute less, and the very smallest employers to be exempt from any contributions.
Access to Work advisors have also been issued with new guidance to ensure consistent decisions around what equipment employers should reasonably be expected to provide to any of their workers, so freeing resources to support workers with more extensive or specialist needs.
An Equality Impact Assessment has been prepared to ensure that these changes have no adverse impact on any particular group and will be available on the DWP website.
Notes to Editors:
Details can be found at http://www.direct.gov.uk
Access to Work (AtW) is a disability employment programme delivered by Jobcentre Plus.
It is different to most other DWP programmes in that it supports disabled people who are in work to stay in work by covering the cost of necessary workplace adjustments that are above what the Equality Act would define as reasonable for an employer to pay.
The programme provides grants direct to individual disabled people to reimburse them for approved costs, and is very flexible to meet individual needs.
To be eligible for the programme a person must: * have a disability or health condition as defined under the Equality Act which is affecting their ability to work; * be 16 years old or over; * live and work in Great Britain; * be in work already, or have a confirmed start-date; * not be in receipt of Incapacity Benefit (however the person may get limited help if they will be working under Higher Level or Supported Permitted Work rules).
Types of support that can be provided under the programme include: * Special Aids and Equipment * Support Workers * Travel to Work * Travel in Work * Communicator Support at Interview
The programme has been growing steadily and in 2009/10 supported 37,300 disabled people in employment.
It is recognised by the National Audit Office as highly cost-effective. Estimates suggest an average annual net fiscal benefit of £2,600.
Published 9 December 2010