Beta of government single domain released
A beta of a single domain for all government information has been launched.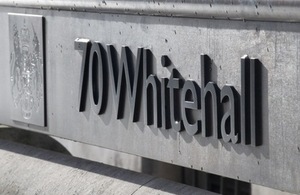 The delivery of digital government information that is fit for the 21st century and will lead to anticipated savings of £50 million a year has come one step closer with the beta release of a single domain, Cabinet Office Minister Francis Maude announced today.
The beta domain tests a new way of delivering public services digitally so that people can access the information they need quickly, easily and securely in one place, without having to wade through many different government websites.
This innovative new approach will also achieve better value for taxpayers' money. By removing the costs associated with software licences and infrastructure investment, significant operational savings are being made and across government savings of more than £50 million are expected when government departments move across to a common platform - gov.uk.
The beta release of the single domain comes as the minister for the Cabinet Office visited the US to see the innovative approach businesses are taking to smarter, more cost effective technology. The visit will take in Joyent, Cloudera, twilio, 10gen and Lucid Imagination.
Minister for the Cabinet Office Francis Maude said:
Digital public services should be easy to find and simple to use - they must also be cost effective and SME-friendly. The beta release of a single domain takes us one step closer to this goal.

Our approach is changing. IT needs to be commissioned or rented, rather than procured in huge, expensive contracts of long duration. We are embracing new, cloud-based start-ups and enterprise companies and this will bring benefits for small and medium sized enterprises here in the UK and so contribute to growth.
The beta release applies this new approach to the government's digital work; it is open source, cheap, iterative and highly responsive to users' needs. The beta has been built by the Government Digital Service, which is already making operational savings.
Martha Lane-Fox said:
The beta release of gov.uk is a fantastic milestone in this government's ambition to become a digital world leader and dramatically change the focus of public service delivery onto the end user.
Notes to editors
1) Martha Lane-Fox's report into government online recommended a 'revolution, not evolution' in the delivery of government services online, with the aim of a 'single government website and shared technology platform' being key to better service and more cost-effective delivery. The Beta release is a step in this new direction.  This report can be found here.
2) The beta of the single domain can be accessed here: gov.uk
3) The projected cost of the beta project is £1.7 million and it is currently running within budget.
Published 1 February 2012