Press release
Best of British business receive Queen's Awards for Enterprise
Companies from across the UK are today celebrating winning a Queen's Award for Enterprise - the UK's highest accolade for business success.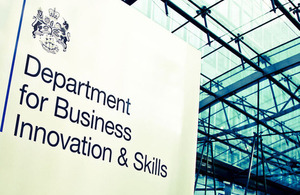 Small, medium and large companies from across the UK are today celebrating winning a Queen's Award for Enterprise - the UK's highest accolade for business success.
The success of 152 businesses has been recognised this year: 116 exporting companies have won 'Awards for International Trade'; 27 for 'Innovation', and nine for 'Sustainable Development' benefitting the environment, society and the economy.
Eight individuals, nominated by their peers for their efforts to encourage UK entrepreneurship, have won the Queen's Award for Enterprise Promotion. Their nominations showed that as well as being full-time entrepreneurs, they voluntarily pass their skills and experience on to others, get involved in education and inspire students, and work to provide help and support to develop peoples business skills. These eight business people, alongside the successful businesses, can now look forward to a Royal Reception at Buckingham Palace.
Business and Energy Minister, Michael Fallon said:
The Queen's Awards for Enterprise are one of the most internationally-recognised and sought after awards that a UK business can achieve. They give companies prestige, an edge overseas and a well deserved boost.
The Queen's Awards highlight our strong entrepreneurial streak and the excellent businesses we have up and down the country who are growing, creating jobs, making a valuable contribution to the economy and helping us to compete in the global race. I applaud each and every one of the winners.
The standard of entries this year was high, with 25 per cent of entrants winning an Award. 14 of the winning companies have 10 employees or fewer; 133 have fewer than 250 employees.
Winning businesses come from a range of sectors including; building and construction, food and drink, and many more. They also range from enterprising small businesses, with just two employees, to household names such as Regatta and Tyrrells Potato Crisps.
There are multiple award winners this year in the 'International Trade' and 'Innovation' categories: Niftylift and Reid Lifting; and in Innovation and Sustainable Development: SPINKO trading as Harrison Spinks. Sun Mark has become the first ever company to win an award in five consecutive years.
Winners of The Queen's Awards are visited by a Royal representative and presented with a crystal bowl to mark their achievement. They also attend a celebratory reception at Buckingham Palace. They can use The Queen's Award Emblem in advertising, marketing and on packaging for a period of five years as a symbol of their quality and success.
To find out more about next year's awards visit www.queensawards.org.uk
Notes to editors
includes descriptions on all 152 business Award winners and 8 recipients of The (QAEP).
2.Prior to 21 April 2013, media should only approach named press contacts of 2013 Award winners about their achievements provided that there is no publication or publicity before 00.01 BST on Sunday 21 April 2013. These contacts are detailed in The Queen's Awards for Enterprise 2013 - Press book (PDF, 1.1MB, 74 pages) .
3.The Queen's Awards for Enterprise are the UK's most prestigious Awards for business success. There are four categories of Queen's Awards – three for business success (International Trade, Innovation and Sustainable Development) and one for individual achievement in encouraging UK entrepreneurship (The Queen's Award for Enterprise Promotion). Companies apply for the Business Awards, but individuals must be nominated for The QAEP
4.In a survey of the 2011 Queen's Awards winners: * 83 per cent of winners said it brought prestige to their business * 48 per cent of winners said it gave them an edge overseas * 79 per cent of winners reported improved staff morale * 63 per cent of winners gained extra press coverage
4.The government's economic policy objective is to achieve 'strong, sustainable and balanced growth that is more evenly shared across the country and between industries'. It set four ambitions in the 'Plan for Growth' (PDF 1.7MB), published at Budget 2011:
to create the most competitive tax system in the G20
to make the UK the best place in Europe to start, finance and grow a business
to encourage investment and exports as a route to a more balanced economy
to create a more educated workforce that is the most flexible in Europe.
Work is underway across government to achieve these ambitions, including progress on more than 250 measures as part of the Growth Review. Developing an Industrial Strategy gives new impetus to this work by providing businesses, investors and the public with more clarity about the long-term direction in which the government wants the economy to travel.
Published 21 April 2013