World news story
Best and Brightest Required to Lead the Armed Forces of Bosnia and Herzegovina
Supporting introduction of a new system for selecting and training young officers as part of the defence reform in Bosnia and Herzegovina.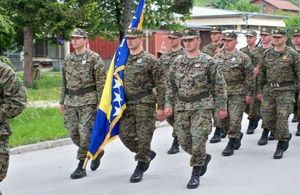 The Armed Forces of Bosnia and Herzegovina (AFBiH) have implemented a number of major defence reform tasks. One of those tasks has been to rejuvenate the personnel, particularly though recruiting and training new soldiers. At the same time BiH Ministry of Defence (BiH MoD) has recognized the need to improve basic officer selection, training and education. This is essential to ensure that those new young soldiers are well led in the future. Identifying the best young leaders from the civilian post-graduate sector is particularly important in this regard.
Junior AFBiH officers are currently produced by commissioning soldiers and NCOs from the ranks and, for a small minority, through education at military academies in friendly countries. AFBiH officer cadets usually achieve excellent results in these academies but the numbers of courses available are far too low to rejuvenate the ageing officer corps. A new approach to recruitment and training is required.
In the past year, with the invaluable support of the British Embassy in BiH and NATO HQ Sarajevo, the BiH MoD has designed a new system for selecting and training young officers. This new process will be compliant with the existing legislation governing commissioning and marks the beginning of another important reform period for the AFBiH.
The aim of the new system will be to select bright young graduates into the Armed Forces directly from the civilian sector. A vacancy advertisement calling for young male and female citizens to apply for officer training will be published by the BiH MoD in the next few days. Applicants will be put through an intensive selection process aimed at identifying their leadership potential. The strongest candidates will then begin a 44-week long leadership training course before joining AFBiH units as platoon commanders.
Zekerijah Osmić, BiH Minister of Defence, has emphasized the importance of this joint project and has instructed the AFBiH to initiate this new system as quickly as possible. He said:
We are committed to offer the opportunity for young male and female citizens of Bosnia and Herzegovina to become AFBiH officers. By organizing our own AFBiH officer selection and training processes, based on up-to-date methods, we will rejuvenate our officer corps and will ensure uniformity and maximum quality in selection and training. By making our selection and individual training processes compatible with those of other modern militaries we will increase the interoperability of AFBiH; this is one of the quintessential requirements for our Euro-Atlantic integration. Furthermore, given the current economic situation in the country and wider region, it is very important that this project is implemented as it will deliver long-term savings; it will not require significant changes to the law or to military service bylaws.
The British Embassy has played a major supporting role in developing the new selection and training systems over the past 16 months. The UK Defence Attaché, Lt Col Rob Tomlinson told us:
BiH has some of the most capable and best trained young soldiers in the region; those soldiers have earned an excellent international reputation for service with the UN and ISAF, as well as for duties inside BiH. Good soldiers and NCOs deserve the very best young leaders that society can provide. This new selection system will help the MoD identify true leadership potential in BiH's brightest young graduates; leaders need to be intelligent, decisive and physically robust, above all they need to have the personality and determination to lead professional soldiers in difficult circumstances. The new selection system will be tough, lasting over 5 days, so only the very best young men and women out there should apply.
NATO Headquarters Sarajevo is also supporting this initiative. Ines Kuburovic, NHQSa spokesperson said:
NATO Headquarters Sarajevo commends the Ministry of Defence for its proactive efforts to establish an appropriate system for the selection and appointment of officers. This is a complex challenge and the MoD has been working hard since late 2012 to ensure that future generations of officers are selected in an objective, transparent and fair manner based on their leadership potential. NATO Headquarters Sarajevo fully supports these efforts of the MoD and we are pleased to assist in the development and revitalization of an officer selection and training process that will produce outstanding young leaders, able to cope with the many challenges that the AFBiH will face in the future, and to enable them to apply their leadership skills by protecting and supporting the people of BiH. We eagerly look forward to the first pilot selection system later this year, and the first trained officers from this system arriving in post in early 2015.
The vacancy advertisement calling for civilian applicants for officer training will be published very soon. The initial pilot selection system will focus on civilian officer candidates for professional military service. However, it is then planned to expand the system next year to select the very best junior leaders from both the civilian sector and from the ranks of existing soldiers and NCOs in AFBiH.
It is expected that the implementation of the project will enable BiH MoD and the AFBiH to embrace and establish the best possible model for selecting and training their next generation of military leaders.
Published 2 October 2013