News story
Beryl accident investigation report and safety flyer published
Person overboard from twin rig stern trawler Beryl, 21nm west-north-west of the Shetland Islands, Scotland with loss of 1 life.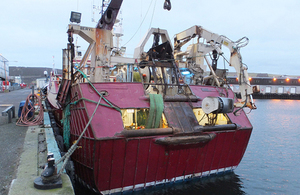 The report into MAIB's investigation of a fatal accident after a crew member was dragged overboard from fishing vessel Beryl on 10 February 2015 is now published.
The report contains details of what happened, actions taken and recommendations. Read more
The MAIB has also produced a safety flyer to the fishing industry which accompanies its report. Along with a summary of what happened, the flyer also highlights how it is easier to prevent crew from falling overboard than it is to recover them from the water.
Press enquiries
Press enquiries during office hours 01932 440015
Press enquiries out of hours 020 7944 4292
Published 2 December 2015