Benyon calls for firm action against 'archaic' trade in rhino horn
Poaching is one of the main threats to the survival of the species.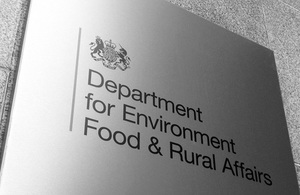 The international community must take urgent action to tackle the alarming rise in the trade of rhino horn before the species is wiped out, Natural Environment Minister Richard Benyon said today.
The call came as the UK Government submitted proposals at a Convention on the International Trade of Endangered Species (CITES) meeting for all countries to clamp down on illegal sales of rhino horn and tighten restrictions on the trade in rhino products.
The trade in rhino horn has been fuelled in part by unsubstantiated claims that it can cure cancer or reverse the effects of a stroke and an increase in its black market value. Rhino horn is now reported to be worth more than £50,000 per kilo - more profitable than diamonds, gold, heroin and cocaine. Three out of the five species of rhinoceros are critically endangered.
Environment Minister Richard Benyon said:
"This trade in rhino horn belongs in the Victorian era, along with the idea that it can cure cancer or reverse a stroke. Rising demand based on these false claims has brought a majestic species to its knees while criminals and snake-oil salesmen line their pockets.
"We need to act now if we want the rhino to survive, and we need a global effort to ensure the strongest possible restrictions are placed on this archaic, cruel and completely unnecessary trade."
In September 2010, following a surge in the number and value of horns being exported from the UK, Defra increased restrictions on their sale. Since then the Government has been working with the European Union to ensure that all Member States take the same approach. The European Commission issued a guidance note to all Member States in February this year urging the adoption of stricter trade controls.
As one of 16 members of the CITES Standing Committee, the UK today called on all countries to introduce EU-style measures, to clarify that there is no scientific proof that rhino horn is of benefit to cancer and stroke victims, and to establish a working group that can identify measures to ensure the long-term survival of the species in the wild.
The UK will also support a workshop in South Africa in September to help develop better cooperation between countries where rhinos are poached and countries where their horns are sold.
The Standing Committee, which meets annually, will also consider the current status of a range of other species this week such as elephants, tigers, great apes, snakes, sturgeon and mahogany.
The UK will be seeking a precautionary approach for the benefit of all species, and in particular calling for future sales of legally sourced ivory - designed to undermine the illegal ivory market - to be stopped unless it can be clearly shown that such sales reduce poaching levels.
Notes
CITES is the Convention on International Trade in Endangered Species of Wild Fauna and Flora, an international agreement between governments that came into force in 1975. Under this agreement the import, export and use for commercial gain of certain species is strictly controlled and requires a CITES permit.
The UK proposal submitted to the Standing Committee can be found here: http://www.cites.org/eng/com/sc/61/E61-45-02.pdf.
All species of rhinoceros (except certain populations of southern white rhino) are listed on Appendix I of CITES and Annex A of the EC Regulations implementing CITES in the EU, affording rhinos the highest level of protection. Poaching is one of the main threats to the survival of the species.
Last year in South Africa alone over 330 rhinos were poached out of a global population of 17,000 white rhino and around 4000 black rhino. Around 2000 Indian rhinoceros survive in the wild along with even smaller numbers of Javan and Sumatran rhinoceroses.
Next month's planned South Africa workshop on the rhino horn trade will also be supported by South Africa, the United States and TRAFFIC International.
Published 15 August 2011