World news story
British Embassy Zagreb at the opening of the music festival
Charge d'Affaires, addressing British tourists in Croatia for music festivals: Enjoy the music, but don't leave common sense at home!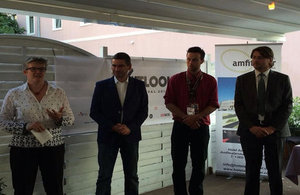 The Charge d'Affaires of the British Embassy in Zagreb, Nicole Davison, attended the opening of the Outlook festival in Pula, Istria. Outlook is one of a number of music festivals taking place in Croatia, that have become increasingly popular with British nationals. Nicole, who spoke alongside the Croatian Minister of Tourism, Darko Lorencin, the Mayor of Pula, Boris Miletić, and the festival organisers, said that music festivals in Pula are evidence of the fact that Croatia and UK enjoy a fruitful relationship in the tourism sector (and, of course, in other areas).
There are approximately 20 festivals each summer and all of them popular with British tourists, Davison said:
It is impossible to open a travel magazine, or newspaper supplement, without reading articles about Croatia and the festival scene. A few are organised by British promoters – as supporters of British culture and entrepreneurship in Croatia that makes us particularly happy.
However, the rise in the number of British tourists – from about 250,000 in 2012 to more than 400,000 this year – proves that British tourists find Croatia a very attractive destination. That has, however, also resulted in more work for our consular staff and so Nicole, who was accompanied in Pula by Vicki Bates, Regional Consul, also shared our consular messages for British tourists coming to party to Croatia: 1. Get travel insurance; 2. Look after your passport; 3. Stay away from drugs. In one sentence: Come and enjoy festivals, but don't leave common sense at home.
Vicki and her colleague Sunčica Aganbegović, also spent several hours at the festival site, talking both to the organizers of the Outlook festival and British tourists, and handing out wrist bands containing basic contact information for potential emergencies.
Published 10 September 2014