World news story
BE Lima and IEP presented report on historical memory in Peruvian schools
British Embassy in Lima-sponsored report focuses on how public schools address Peru's internal conflict (1980-2000).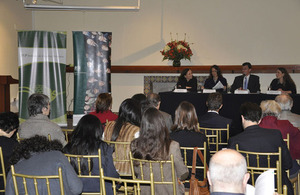 In a ceremony at British Ambassador James Dauris' residence in Lima on Wednesday, October 23rd, the BE Lima and Instituto de Estudios Peruanos – IEP (Institute for Peruvian Studies) presented the document "Secretos a voces: Memoria y educación en colegios públicos de Lima y Ayacucho" (Open Secrets: Memory and education in Lima and Ayacucho public schools). IEP received sponsorship from the British Embassy in Lima for this report.
HMA James Dauris welcomed Roxana Barrantes, IEP's director, and Francesca Uccelli, senior researcher at IEP who co-authored the document with José Carlos Agüero, María Angélica Pease, Tamia Portugal and Ponciano del Pino. From the BE Lima, now former Chancery Officer Lorna Pugh oversaw the project.
IEP, established in Lima in 1964, is a prestigious non-profit research institution whose areas of expertise include economy, education, ethno-history, genre studies, linguistics, art history and others. The goal of the project is build tools and supporting informational material which would be later distributed to teachers in public schools in Lima and Ayacucho. Lima, Peru's capital, concentrates almost 30% of all the country's population, according to official figures. Ayacucho, in the central highlands, is the birthplace of terrorist group Shining Path, and experienced the country's saddest violence in recent history during the Conflicto Armado Interno – CAI (Armed Internal Conflict, 1980-2000).
The document highlights the obstacles of teaching AIC in Peruvian public schools because no version of what happened during the two decades has been officially agreed. Moreover, the contents of the August 2003 report of Comisión de la Verdad y Reconciliación Nacional (National Commission for Truth and Reconciliation) have been challenged by different sectors. "The curriculum strategy remains an isolated measure, lacking an integrated state policy, with no transformation of teaching conditions and without legitimacy, meaning it has neither social nor political support for its teaching," the report says.
Present at HMA's residence were senior politicians and special guests.
Published 6 November 2013