News story
Be Clear on Cancer: next campaigns announced
The next national campaign to raise awareness of cancer symptoms launches in February 2014 and will focus on breast cancer in women over 70.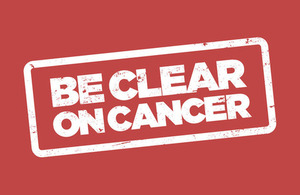 PHE, in partnership with the Department of Health and NHS England, has announced the next national Be Clear on Cancer campaign will raise awareness of breast cancer in women over 70.
Early diagnosis can help improve cancer survival rates – catching cancer earlier generally makes it more treatable.
The breast cancer in women over 70 campaign has been piloted at local and regional levels. A national campaign will run early February to mid-March 2014 and will feature TV ads to reinforce the message that 1 in 3 women who get breast cancer are over 70.
We will also be running two regional awareness campaigns on ovarian cancer and oesophago-gastric cancers between February and March 2014.
Both regional campaigns will also feature TV advertising during the same period, with the ovarian cancer campaign being run in the North West and Border TV regions, and the oesophago-gastric cancers campaign in the North East TV region.
The local ovarian cancer campaign, which ran early in 2013 and targeted women aged 50 years and over, focused on the key symptom of bloating, encouraging women who experienced this for 3 weeks or more to tell their doctor.
Similarly a local oesophago-gastric pilot campaign ran in 2012, targeting men and women aged 55 and over and highlighted the key symptoms of difficulty swallowing and heart burn/indigestion for 3 weeks.
A letter from Public Health England, NHS England and Department of Health, announcing these campaigns is available from the NHS England website.
Published 11 September 2013