Press release
Be Clear on Cancer: 'blood in pee' campaign returns
Successful Be Clear on Cancer campaign returns for a second time to highlight blood in pee as a key symptom for bladder and kidney cancers.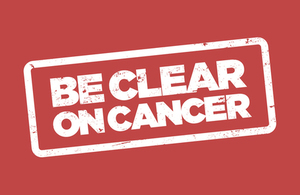 Public Health England today (16 February 2016) launches a nationwide 'Be Clear on Cancer' campaign with the aim of raising awareness of a key symptom for both bladder and kidney cancers – blood in pee.
Around 17,450 people in England are diagnosed with bladder or kidney cancer every year and around 7,600 people die annually. Blood in pee is a symptom in over half of bladder cancers and almost a fifth of kidney cancers, so being aware of this is crucial.
The Be Clear on Cancer 'blood in pee' campaign ran nationally in 2013 and 2014. Analysis of diagnoses during the 2013 campaign period shows a statistically significant increase in the number of bladder and kidney cancers diagnosed at pre-cancerous and early stage, and a reduction in late stage diagnoses for bladder cancer. This early detection has been equated to the prevention of around 70 bladder cancer deaths and about 25 kidney cancer deaths. While it is not possible to link these findings to the campaign in isolation, the findings suggest that it is highly likely that the campaign has made an impact.
Early diagnosis of bladder and kidney cancer increases the chances of survival. For those diagnosed at the earliest stage (stage 1), the likelihood of surviving 5 years or more can be as high as 84% for kidney cancer and 77% for bladder cancer. However for those diagnosed at a late stage (stage 4), survival is as low as only 10% for kidney cancer and 9% for bladder cancer.
The campaign is aimed at men and women aged 50 and over, as between 90 to 97% of bladder and kidney cancer diagnoses are in people in this age group. It encourages anyone who notices blood in their pee, even if it's 'just the once', to visit their GP to get it checked out. Given that people may not spot blood in their pee unless they check, this year's campaign also promotes a 'look before you flush' message, particularly to women, who may be less likely to do so.
Dr Jenny Harries, Regional Director, for South of England, Public Health England said:
Evidence shows that Be Clear on Cancer campaigns really do make a difference. The rise in the number of bladder and kidney cancers being picked up early is important; it is this early detection that saves lives.

It's vital that we all do our bit to raise awareness that blood in pee could be an early sign of bladder or kidney cancer, and encourage anyone with this symptom to go to their GP. We know that people don't always immediately visit their doctor if they spot blood in pee, which can be for a number of reasons. Some might ignore the symptoms, especially if it only happens once, or may pass the symptom off as cystitis. If you do notice blood in your pee, don't wait for it to happen again before getting it checked out, visit your GP straight away.
BBC journalist and radio presenter, and kidney cancer survivor, Nicholas Owen, commented:
I was extremely lucky because my tumour was found early. Early diagnosis saves lives, so everyone should look out for key symptoms, like blood in your pee. Don't delay, the sooner you speak to your GP, the sooner you know what you're dealing with.
Ian Lavender, actor and star of Dad's Army who is a bladder cancer survivor, said:
I'm supporting this year's 'blood in pee' campaign as a survivor of bladder cancer. It's a simple message 'look before you flush' and make sure you go and see your GP if you notice blood in your pee. Spread the word, someone you know might have this symptom and reminding them to get it checked could save their life - it saved mine, and I'm 70 and still happy to be working.
The nationwide Be Clear on Cancer 'blood in pee' campaign will begin on Tuesday 16 February and run for 6 weeks. Read more information about the signs and symptoms of bladder and kidney cancers.
Background information
Public Health England exists to protect and improve the nation's health and wellbeing, and reduce health inequalities. It does this through world-class science, knowledge and intelligence, advocacy, partnerships and the delivery of specialist public health services. PHE is an operationally autonomous executive agency of the Department of Health. Website: www.gov.uk/phe. Twitter: @PHE_uk, Facebook: www.facebook.com/PublicHealthEngland
Be Clear on Cancer campaigns are run by Public Health England in partnership with the Department of Health and NHS England.
The Be Clear on Cancer campaign is part of the National Awareness and Early Diagnosis Initiative, run in partnership with Cancer Research UK, to improve England's cancer survival rates.
Early diagnosis of cancer is a major priority for this government in helping us to improve cancer survival. Be Clear on Cancer campaigns, which aim to raise public awareness of the symptoms of cancer and encourage earlier presentation, form an integral part of the Public Health England Marketing Plan for 2014 to 2017, which was published in July 2014.
Pictures of celebrity supporters, Ian Lavender (bladder cancer survivor) and Nicholas Owen (kidney cancer survivor) are available on dropbox.
Interview opportunity with Professor Yvonne Doyle, PHE regional director, London or Dr Jenny Harries, PHE regional director, South of England available upon request. Interviews also available with HCPs featuring in the advertising and case studies.
The campaign includes national TV, radio, digital and out of home advertising (posters in public washrooms) together with face to face events in venues such as shopping centres
Three local pilots initially tested the 'blood in pee' campaign in early 2012. This was followed by a regional pilot from January to March 2013. The campaign went national, across England, for the first time in October 2013 and was repeated the following October.
Results from the first national 'blood in pee' campaign in 2013 showed that the number of bladder, kidney and urological cancer diagnoses resulting from an urgent GP referral for suspected urological cancers increased by 8.2%, 22% and 14% respectively in October to December 2013, compared to the same months in 2012.
Results from the 'blood in pee' activity to date indicate that Be Clear on Cancer is successfully changing levels of public awareness. There are also early indications that clinical outcomes are improving too. Following the second national campaign:

Six in 10 of those aware of the cancer advertising spontaneously mentioned 'blood in pee' as a cancer symptom (62% up from 31% pre campaign)
There was a 34% increase in the number of urgent GP referrals for suspected urological cancers when comparing October to December 2014 with October to December 2012

Blood in your pee is a key symptom of both bladder and kidney cancers. Other bladder cancer symptoms include:

cystitis (a urinary tract infection) that is difficult to treat or comes back quickly after treatment
pain when peeing Other kidney cancer symptoms include:
a pain in the side, below the ribs, that doesn't go away
weight loss

Smokers have a much higher risk of these cancers. Other things that increase the risk of bladder and/or kidney cancer include:

being overweight or obese
some jobs, because of exposure to certain chemicals
other medical conditions, such as kidney failure
a family history of cancer

Additional spokespeople quotes:
Media Medic, Dr Rosemary Leonard, commented:
We know that people are concerned about wasting their GP's time. But, if you have had blood in your pee, even if it's 'just the once', you must see your GP to get it checked out. It can be a symptom of many other conditions, and though many of these are not that serious, such as cystitis, even that should be checked out by a doctor, as it can be a sign of cancer. So it's really important that if you notice anything unusual that you come in and see us. We want to see you! You aren't wasting our time, it could save your life.
Nikhil Vasdev, Consultant Urological Surgeon, commented:
The blood in pee campaign highlights the importance of seeking medical advice if this symptom arises. Bladder and kidney cancers can cause blood in the pee; hence, it is crucial to raise the importance of this symptom. The key is to get a diagnosis and if either bladder or kidney cancer diagnosed in time, in order to ensure that patients have prompt treatment which can be offer improved patient outcomes from the perspective of immediate cure and hopefully improve long term outcomes as well.
Public Health England press office
Published 16 February 2016