News story
Batteries directive: public views on draft 2015 regulations
Public consultation and impact assessment on the 2015 draft regulations, following the amended batteries and accumulators directive.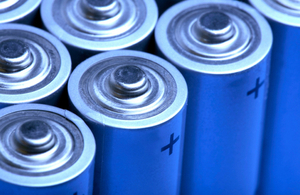 The National Measurement and Regulation Office (NMRO) is responsible for enforcing the 2006 Batteries and Accumulators and Waste Batteries and Accumulators directive.
The 2006 directive is to be superseded by the 2013/56/EU amended batteries directive, a link to which is given below.
This removes certain exemptions to the prohibitions on placing on the market of batteries containing mercury or cadmium, and amends the provisions relating the removability of waste batteries from an appliance by an independent qualified professional.
The consultation document for the implementing legislation can be accessed below.
Any comments relating to the draft legislation should be made using the below form and submitted by 5 November 2014.
Details regarding the impact assessment associated with the draft legislation are given in the below document.
Information relating to the current legislation, compliance and enforcement can be seen by clicking on the NMRO's battery page.
Enquiries regarding the existing legislation should be made via the NMRO's online enquiry service, by choosing the relevant enquiry form and following the on screen instructions.
Published 18 August 2014