News story
Baroness Warsi's message for Diwali 2013
Baroness Warsi sends her best wishes those celebrating Diwali.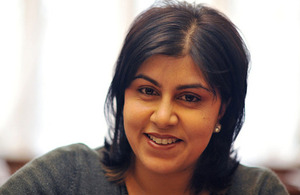 Senior Minister of State at the Foreign & Commonwealth Office and Minister for Faith and Communities Baroness Warsi said:
I'd like to send my best wishes to all communities who are celebrating Diwali - the festival of lights.

As Hindu, Jain and Sikh communities come together to celebrate the victory of good over evil and light over darkness, the values of Diwali - of togetherness, truth and reflection - are ones that we can all relate to in our diverse communities across the United Kingdom and beyond.

This festival provides a special and important time for reflection as we spend time with those closest to us as family and friends share in the excitement and celebrations.

I'm delighted to wish all communities a very peaceful and happy Diwali and a prosperous new year.
Published 1 November 2013