News story
Baroness Warsi's message for Chanukah 2013
Baroness Warsi sends her best wishes to those celebrating Chanukah.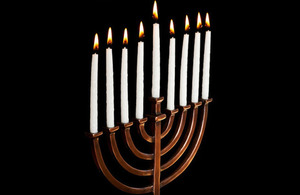 Faith and Communities Minister Baroness Warsi said:
I'd like to wish the Jewish community in the UK and beyond a very happy and peaceful Chanukah.

This special festival celebrates the miracle of the oil - when 1 day's worth of oil burned for a full 8 days – something that families and friends will be rejoicing in when they come together to light the menorah candle.

As the number of candle lights are increased as the days progress, we can all be reminded of the endurance of hope and possibility through difficult times that the festival represents. The candles and lamps are displayed in places that can be seen from the outside in, reminding neighbours and passersby of this sentiment and of the holiday's miracle.

I would also like to pay tribute to the incredible contribution that the Jewish community makes throughout society, selflessly volunteering hours of their time to make our areas better places to live. The annual Mitzvah Day event is an example of this, as around 25,000 people across the country take part in social action, playing a central role in building stronger and more supportive communities. I'm delighted that this occasion has now grown to become a focal point of the Jewish calendar.

A very happy Chanukah to you all.
Published 27 November 2013