Press release
Baroness Warsi underlines UK support for women in Afghanistan
Baroness Warsi met Afghan Deputy Minister for Women and female MPs to discuss women's role in politics and women's rights in Afghanistan.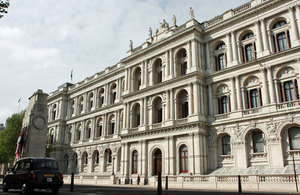 Senior Foreign Office Minister Baroness Warsi met the Afghan Deputy Minister for Women's Affairs, Fawzia Habibi, three prominent female Afghan parliamentarians, Shukria Barakzai, Raihana Azad and Dr Nilofar Ibrahim and Malia Malikpour of Action Aid Afghanistan for talks at the Foreign Office today (Tuesday 2 December).
The Minister reiterated the UK's support to efforts to improve the status of women and girls in Afghanistan as part of the UK's enduring partnership with Afghanistan after combat troops leave at the end of 2014. Looking ahead to presidential and provincial elections in April next year, the Minister acknowledged the challenges facing female parliamentarians as well as women voters across Afghanistan. She underlined the UK's commitment to supporting the participation of women in the political and electoral process, including through training female parliamentary and electoral officials.
On Monday 2 December, the Minister opened an event at Chatham House on the status of women in Afghanistan after 2014, reaffirming the progress made for women's rights and the importance of protecting gains made since 2001.
Speaking after the meeting, the Minister said:
It was a privilege to meet these inspirational women both here and at Chatham House and to hear their views on how we can best work together to support women to play a greater role in political and economic life in Afghanistan. These women are role models for thousands of young Afghans. They demonstrate that educated women can not only sit in Parliament, but be up front and involved in making decisions. Next year's elections will provide an important opportunity for more Afghan women to be part of the democratic process, which the UK is determined to support.
Further information
Follow Foreign Office Minister Baroness Warsi on twitter @SayeedaWarsi
Follow the Foreign Office on twitter @foreignoffice
Follow the Foreign Office on facebook and Google+
Published 3 December 2013