Press release
Baroness Warsi sends her best wishes to those who are celebrating Easter
Easter message from Baroness Warsi.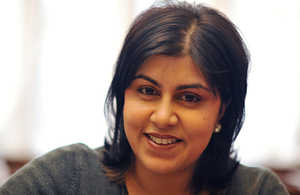 As the most important date in the Christian calendar is upon us, I'd like to send my warmest wishes to the millions of people who are celebrating this holy festival.

Christian values form one of the main pillars of our society as the themes of compassion, charity and neighbourliness are manifested by the selfless individuals across the country who volunteer hours of their time to help others and improve their communities.

This practical manifestation of belief is one that the faith holds dear and is something I have witnessed on numerous occasions, showing that people who do god do good.

However, it is a sad fact that across the world, Christians, and people of all faiths, continue to be persecuted simply for their religious beliefs and we should spare a thought and offer prayers for those who cannot celebrate Easter through fear of violence and intimidation.

That's why I have called for an international response to this global crisis. Everyone should have the right to hold a faith, manifest their faith, or indeed to change their faith, and I am committed to promoting this right across the globe.

This Easter I hope you are all able to celebrate the festival happily and peacefully with your loved ones.
Office address and general enquiries
2 Marsham Street
London
SW1P 4DF
Contact form http://forms.communiti...
General enquiries: please use this number if you are a member of the public 030 3444 0000
Published 18 April 2014