Press release
Baroness Warsi meets Central African Republic religious leaders
Baroness Warsi today met two of CAR's foremost religious leaders whose efforts to reduce tensions in CAR are crucial.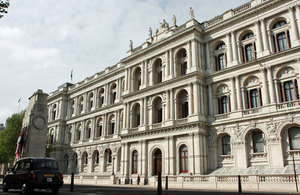 Senior Foreign Office Minister Baroness Warsi met Archbishop Dieudonné Nzapalainga and Imam Omar Kabine Layama, two-thirds of the Central African Republic's (CAR) Inter-Religious Forum, on 27 January at the House of Lords.
After the meeting Baroness Warsi said:
I applaud the leadership and courage of both Archbishop Dieudonné Nzapalainga and Imam Omar Kabine Layama of the Central African Republic whom I had the privilege of meeting today. Their message to me was the violence in CAR should not be seen as a fight between different faiths, but rather as the legacy of neglect, economic marginalisation and political exploitation. They expressed their confidence and hope that, with sufficient help, CAR's communities can live together side-by-side in peace once more.
I heard first-hand about the appalling levels of violence and suffering that the people of CAR are enduring. Both Archbishop Dieudonné and Imam Omar called for greater international support, including from the UN, AU, as well as the EU and UK, to strengthen security and ensure humanitarian assistance reaches those that need it most. I reassured them that the UK will maintain its commitment to the people of CAR, and stand with them in this dark hour. The Minister for Africa, Mark Simmonds, will be discussing the crisis and delivering this message this week during his discussions with African leaders at the African Union Summit.
Further information
Follow Foreign Office Minister Sayeeda Warsi on twitter: @SayeedaWarsi.
Follow the Foreign Office on twitter.
Follow the Foreign Office on facebook & google+.
Published 27 January 2014