Baroness Warsi hails Malala's inspirational activism
Baroness Warsi has hailed Malala's inspirational activism ahead of Malala Day on Saturday 10 November.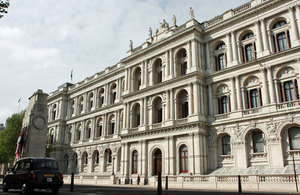 Highlighting the UK's role in supporting Pakistan in improving education access, Baroness Warsi reinforced the UK's support for more support for education for girls in school.
Baroness Warsi, said:
"Through her inspirational activism Malala has bravely highlighted the need for education to be accessible to all children in Pakistan.
"Education is the single most important factor that can transform Pakistan's future. Currently, half the adult population can't read or write, and more than twelve million children are not in school. The problem for women is more acute; nearly two thirds of women in Pakistan can't read or write. Girls' education is a priority for the UK Government's programme in Pakistan. It is important to ensure that girls have an education in school.
"The UK is supporting up to four million children in school and is training up to 45,000 teachers. All of our programmes a have an emphasis on women and girls and aim to tackle the low levels of girls' enrolment in primary schools. Additionally in the part of Pakistan that Malala is from, Khyber Pukhtunkhwa, we support the provincial governments to increase girls' attendance at school, through the use of stipends and vouchers, the provision of free textbooks, and improving school facilities to make sure they are safe and appropriate for girls."
Published 9 November 2012