Press release
Baroness Warsi expresses concern over death penalty in Bangladesh
Foreign Office Minister Baroness Warsi deeply concerned over use of death penalty in Bangladesh.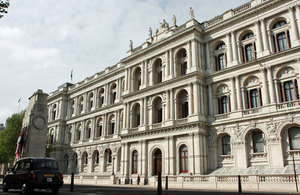 Baroness Warsi said:
I am deeply concerned at the decision by the Bangladesh Supreme Court to pass the death penalty on Jamaat-e-Islami Assistant Secretary General, Abdul Qader Mollah, for the crimes committed during the war preceding the independence of Bangladesh in 1971.

The UK opposes the use of the death penalty in all circumstances as a matter of principle and this decision runs contrary to the international trend towards worldwide abolition. I call on the Bangladeshi authorities to introduce a moratorium on executions as a first step towards definitive abolition of the death penalty.

I urge all political parties to avoid actions that undermine trust and confidence especially ahead of upcoming elections.
Further information
Follow Foreign Office Minister Baroness Warsi on twitter @SayeedaWarsi
Follow the Foreign Office on twitter @foreignoffice
Follow the Foreign Office on facebook and Google+
Published 18 September 2013