News story
Baroness Warsi Celebrates Women's Rights in Afghanistan
Baroness Warsi spoke at the Afghanistan Embassy on International Women's day.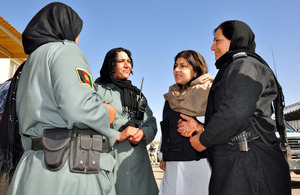 Speaking at the Afghanistan Embassy in London to mark International Women's Day, the Foreign Office Senior Minister of State for Afghanistan, Baroness Warsi, recognised the achievements of women in Afghanistan and reaffirmed the UK's long-term commitment to Afghan women. She was welcomed by the Afghanistan Ambassador, H.E. Mohammed Daud Yaar, and joined by other speakers who gave a historical perspective on the role of Afghan women and a personal reflection of the current situation for women in Afghanistan.
Baroness Warsi said:
I was inspired by my meetings with the brave policewomen in Helmand during my recent visit. Their work highlights Afghan women's vital contribution to building peace and security in Afghanistan.
In my discussions with inspirational women such as Fawzia Koofi MP, Sima Samar of the Afghan Independent Human Rights Commission and Habiba Sorabi, the first female Governor, I was encouraged to hear some progress has been made on women's rights, we now must ensure these hard won gains don't slip.
Further Information
View photographs of the Minister's visit to Afghanistan
Foreign Office Minister reaffirms UK commitment during visit to Afghanistan
Published 8 March 2013