Press release
Baroness Randerson's work is recognised by Welsh Muslim Council
Wales Office Minister Baroness Randerson receives recognition for her services to interfaith relations.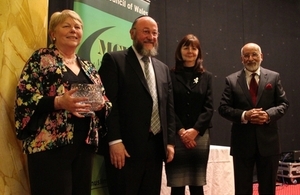 The Muslim Council for Wales has decided that in recognition for her services to interfaith relations refugees and asylum-seekers, Baroness Randerson will be awarded with their Achievement Award 2015.
The Minister will receive her award at the Council's dinner celebrating UN Word Interfaith Harmony Week at Cardiff City Hall on Wednesday 4 February 2015.
Previous recipients include the Rt. Hon. Rhodri Morgan, Lord Dafydd Elis Thomas and Cardinal Cormack Murphy O'Connor.
The event is an historical one as its keynote speaker will be Chief Rabbi Mirvis Ephraim, 11th Chief Rabbi of the United Hebrew Congregation of the Commonwealth. Islamic theologian Shaykh Asim Yusuf will be the other keynote speaker.
The Muslim community has stated that it is indebted to the minister for the commitment, dedication and enthusiasm she has shown over the years and value her contribution to interfaith harmony.
Baroness Randerson said:
I feel very humbled and proud to be honoured in this way. Seeking harmony between all faiths is important if we wish to live in a peaceful world and I have always supported co-operation and tolerance.

To receive an honour for what I believe in has touched me deeply.
Published 4 February 2015