Press release
Baroness Randerson urges young people to get an apprenticeship to boost job prospects
Baroness Randerson today (12 March) urged young people in Wales to get an apprenticeship during a tour of Airbus's factory in Wales.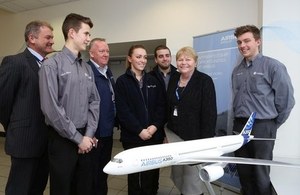 Airbus has a well deserved reputation for the excellence of their apprenticeship training. During her visit to their site in Broughton, Baroness Randerson met Airbus apprentices who are learning key skills on the job helping them to further their careers.
Since 2010, the UK government has developed more than 2 million apprenticeships giving young people the chance to earn and learn on the job while supporting business to create a create a world-class workforce.
The UK government wants more businesses to take on apprentices and so from next year has abolished national insurance contributions for employers hiring trainees aged under 25 – a move which could benefit some 22,000 apprentices in Wales.
Baroness Randerson, who visited Airbus during National Apprenticeship Week, said:
Apprenticeships offer a fantastic opportunity for young people in Wales to learn a trade first hand and get the practical training they need to boost their job prospects and get on the career ladder.

Employers also tell us that taking on an apprentice has benefited their business. That's why as a government we are right behind apprenticeships and have made it easier for employers to take on more young trainees.

There are a huge range of high quality apprenticeships available in Wales - like those provided by Airbus - and so I would urge young people to get involved so they can develop the skills they need to really make a success of their career.
During her visit, Baroness Randerson met Airbus management and heard how the company – one of Wales's biggest employers - is investing heavily in developing the skills of young people through work experience placements and their apprenticeship programme.
She also saw Airbus's North Factory where the wings for A350 XWB plane are manufactured, and the West Factory where the wings for the A380 are made.
Published 12 March 2015