Press release
Baroness Randerson signals the start of Wales Tourism Week
Wales Office Minister visits Newport tourist destinations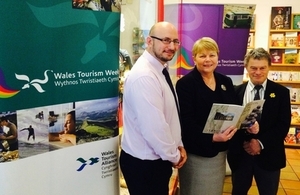 Wales Office Minister, Baroness Jenny Randerson has today (25 Feb) signalled the start of 'Wales Tourism Week' with visits to two of the most popular attractions in south Wales.
Wales Tourism Week 2014 (22 Feb – 2 March) is a week-long celebration of events, showcasing the quality and vibrancy of the visitor experiences and the value the tourism industry brings to the Welsh economy.
Baroness Randerson travelled to Newport where she visited the National Roman Legion Museum in Caerleon before being hosted on a tour of 17th -century National Trust property Tredegar House.
The visits come in a year where the eyes of the world will fall on Wales, as the Celtic Manor Resort prepares to host world leaders at the 2014 NATO Summit. Baroness Randerson will take the opportunity to highlight the type of tourist attractions visiting delegates will be able to see when the Summit begins in September this year.
Baroness Randerson said:
Indoors and outdoors, Wales has a wealth of wonderful attractions, activities and events for visitors. Our range of cultural and heritage attractions including three national parks, three UNESCO World Heritage sites, the National Coastal Path and numerous sporting and entertaining venues are world class.

NATO will provide a huge opportunity to promote Wales to the world. We must ensure all those who visit leave with a clear message about everything Wales, its people and its impressive landscape have to offer to the global community. Baroness Randerson first visited the National Roman Legion Museum in Caerleon where Museum Manager, Dai Price escorted her on a tour of the site which researches, preserves and displays half a million objects of international importance from the remains of Roman fortresses across south Wales.
Built in 1850, the museum became part of the National Museum Wales in 1930 and boasts one of the largest gemstone collections found anywhere in the Roman Empire.
Dai Price, Manager of the National Roman Legion Museum, said:
We were delighted to welcome Baroness Randerson here today to celebrate Wales Tourism Week. All seven of National Museum Wales sites including the National Roman Legion Museum play a vital role in attracting international tourists to Wales and we always aim to ensure that our visitors have the best experience at our museums.
Baroness Randerson then travelled to Tredegar House where she was hosted on a tour of the 17th-century building and its gardens in the company of National Trust Director for Wales, Justin Albert and General Manager of Tredegar House, Joanna Cartwright.
Since opening its doors under National Trust custodianship on 19 March 2012, Tredegar House has welcomed over 100,000 visitors and has welcomed more than 1,000 new memberships.
National Trust Director for Wales, Justin Albert said:
Wales is an extraordinary country which has many special places within its borders. Last year saw a substantial boost for tourism in Wales – visits to Wales from tourists elsewhere in the UK jumped nearly eight per cent in the first nine months of 2013 – and we all need to work together to build on that for Team Wales.

The number of people visiting us at places like Tredegar House shows the interest and potential that is there to be tapped. Working together to promote that can only benefit us all in Wales' tourism sector.
Baroness Randerson added:
Whilst I already know a lot of the great places to visit in Wales - not least having lived in Cardiff for over 40 years, I always welcome the opportunity to speak to people working in the industry, to hear about the challenges they are facing, and opportunities available to them.

Tourism is big business in Wales. The sector generates - directly and indirectly - £6 billion annually and supports over 200,000 jobs in Wales. In the first three quarters of 2013, Wales attracted 702,000 international visitors to its shores, spending £289million.

I was delighted to have the opportunity to experience just a snapshot of what visitors from home and overseas will be able to see if they take the opportunity to visit Wales this year.
Notes to Editors
Wales Tourism Week runs from 22 Feb – 02 March 2014

The Wales Tourism Alliance, the voice of the tourism industry in Wales, is coordinating Wales Tourism Week in association with the industry. Wales Tourism Week is held annually to raise the profile of the tourism industry in Wales and to highlight its huge revenue generating value and the opportunities it provides for jobs and careers.

In 2012, VisitBritain launched its biggest, most ambitious tourism marketing programme for 10 years: "GREAT Britain You're invited". The campaign is designed to show the world that Britain is open for business; that it's a great place to visit, to live, and to invest.

For further information, please contact Lynette Bowley at the Wales Office on 029 2092 4204 / lynette.bowley@walesoffice.gsi.gov.uk

For further information about the National Trust in Wales please contact Ken Smith on 07768 424394 or Kenneth.smith@nationaltrust.org.uk
Published 24 February 2014