Press release
Baroness Kramer and Pete Waterman visit Crewe to find out how HS2 could benefit the town
Crewe to benefit from high speed rail.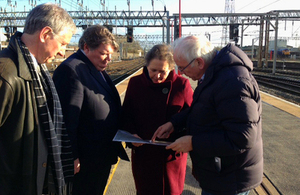 Transport Minister Baroness Kramer and HS2 Growth Taskforce member Pete Waterman were in Crewe today (27 February 2014) to find out more about how HS2 will benefit the town and the wider region.
Under proposals for Phase Two of the route between Birmingham and Manchester and Leeds, Crewe will be connected directly with the high speed line via a dedicated link to the West Coast Main Line. This will see journey times to London slashed by over half an hour to just 55 minutes. In addition, passengers will be able to travel between London and Carlisle, Lancaster, Preston, Wigan, Warrington, and Runcorn without changing trains.
Combined with the current programme of electrification across the north this improved connectivity will unlock the enormous potential and opportunities that towns like Crewe have to offer – making them more attractive places to locate and do business.
Baroness Kramer said:
HS2 will free up capacity for commuters, regional and freight services on the existing West Coast Main Line creating benefits for passengers and businesses both on and off the new high speed network, including those in Crewe and the wider north west.

I was pleased to visit Crewe to hear more about the benefits of high speed rail for the area. I was also grateful to have the opportunity to personally thank some of the staff at Crewe who worked so hard to keep passengers safe and moving during the recent bad weather.
Pete Waterman said:
We were really pleased to have Baroness Kramer here in Crewe. It was important for her to see the potential that is here. I've been round most of the UK with the Growth Taskforce over last 7 months and Crewe is really unique in that it has enormous growth potential.

People now appreciate how strategically placed this town was to Victorian Britain and still is. We're shovel ready to go into the next century.
The consultation on the Phase Two route, stations and depots closed on 31 January and the government will announce a decision on the final route by the end of this year.
As part of the government's drive to encourage the development of ultra low emission vehicles, Baroness Kramer also visited Jaguar Land Rover's world class research and development facility at Gaydon, Warwickshire, to learn about the company's latest research and development activities and global investment plans.
HS2 and major projects media enquiries
Press enquiries 020 7944 3021
Out of hours 020 7944 4292
Switchboard 0300 330 3000
Published 27 February 2014