Baroness Hanham visits Northumberland regeneration projects
Communities Minister Baroness Hanham sees how government funding has created new business and jobs.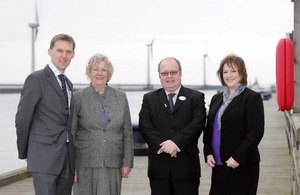 Entrepreneurs who are creating new jobs in Northumberland towns met the minister to discuss how government funding has been supporting the local economy.
Baroness Hanham visited Berwick Workspace, a business start up initiative which is helping to create new jobs and assist 37 small businesses in providing bespoke training, mentoring and developing effective links with relevant industry.
To mark the 100th anniversary of International Women's day, Baroness Hanham also joined 3 successful local entrepreneurs, in celebrating women's achievements past, present and future.
The minister also officially announced £2.5 million European Regional Development funding when she opened the National Renewable Energy Centre in Blyth, which will place the Northumberland at the centre of Offshore Wind Turbine developments.
Through these projects, the Northumberland local economy has benefited from over £12 million European Regional Development funding, with additional support provided by Berwick and Northumberland councils, One North East, and Northumberland Strategic Partnership.
Baroness Hanham said:
"We believe that local communities know what's best for driving economic growth in their area and it was inspiring to hear from entrepreneurs in Northumberland how they are using government funding to create new business and jobs. These projects are opening up life changing opportunities for the local community and will contribute to the regeneration of Northumberland by helping local businesses to realise their potential.
"As the government continues to cut the deficit, private sector growth is vital, particularly in the small and medium enterprise sectors, these businesses will play an important part in enriching their local area.
"It was a honour to mark International Women's day in Northumberland and celebrate the achievements of local businesswomen who are playing such a key role in reviving their local economy."
Published 9 March 2011