Press release
Baroness Anelay visits Slovenia and Bosnia-Herzegovina
FCO Minister attended Bled Strategic Forum & visited Bosnia-Herzegovina to champion UK-supported progress and urge further political reform.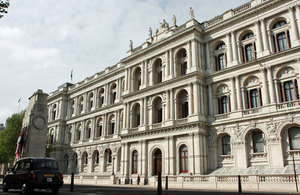 On 31 August Baroness Anelay, FCO Minister of State, attended the Bled Strategic Forum in Slovenia, before travelling to Bosnia and Herzegovina to champion recent landmark judicial rulings where a UK supported project has helped survivors of sexual violence to secure compensation for the first time.
At the Strategic Forum, the Minister moderated a panel discussion on progress since the Global Summit to End Sexual Violence in Conflict in her capacity as the Prime Minister's Special Representative on Sexual Violence in Conflict. The panel included the EU Special Representative for Human Rights, the NATO Secretary General's Special Representative for Women, Peace and Security and the Vice President of the International Committee of the Red Cross, alongside representatives of NGOs from Bosnia and Herzegovina and Uganda.
Following her attendance at Bled, the Minister travelled to Ljubljana to discuss EU reform with the Slovenian Interior Minister, Vesna Györkös Žnidar.
On 2 September, Baroness Anelay travelled to Bosnia and Herzegovina where she met the Prime Ministers of both entities in Bosnia and Herzegovina to urge further progress on implementation of the country's Agenda for Reform.
The Minister then met representatives from six NGOs working to support and champion the rights of survivors of sexual violence in conflict. Later, at a meeting with key judicial figures, including the President of the State Court, the Minister welcomed recent landmark decisions which have recognised survivors as victims of conflict and awarded them with compensation for the first time. Baroness Anelay went on to urge further progress.
Speaking at the conclusion of her visit, Baroness Anelay said:
I was delighted to make my first visit to Bosnia and Herzegovina, and particularly to witness the results of the support given by the UK to those organisations working tirelessly to ensure survivors of sexual violence receive justice for these heinous crimes.

Recent landmark rulings recognising the rights of survivors to compensation are a vindication. The UK stands firm alongside all those, including the Governments in Bosnia and Herzegovina, the judiciary and NGOs, working to build on this progress, ensuring more survivors are able to access justice and rebuild their lives.
Further Information
Since 2012, the UK has provided £1.1million of funding to the Bosnian judiciary to support the prosecution of sexual violence crimes. This funding is drawn from the Conflict, Stability and Security Fund.

Since 2012, the UK has provided over £440,000 of support to NGOs working to support survivors in the judicial process.

Since June 2015 a series of landmark rulings in Bosnia and Herzegovina have recognised the right of survivors of sexual violence to compensation for their crimes, ordered such payments by former soldiers and recognised the first male victims of sexual violence in Bosnian history. In all cases, the victims were supported by NGOs in receipt of UK funding.

Follow Foreign Office Minister Baroness Anelay on Twitter @JoyceAnelay

Follow the Foreign Office on Twitter @foreignoffice
Published 2 September 2015