Press release
Baroness Anelay promotes human rights and gender equality in Vienna at the OSCE
In a demonstration of continued UK commitment, Minister for Human Rights visits the Organization for Security and Cooperation in Europe (OSCE) for wide-ranging discussions.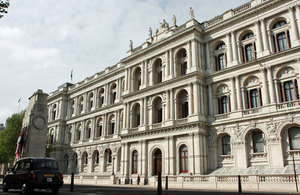 For over 40 years the United Kingdom has worked with other governments in the OSCE to promote regional security based on conflict prevention and human rights.
This week the UK demonstrates its continued commitment to the organisation and its aims as Baroness Anelay visits the OSCE in Vienna to discuss strengthening its work in these areas.
Studies show that peace processes in which women meaningfully participate are more likely to succeed. The Minister will call for more women to be involved in OSCE conflict prevention and resolution work and for "less talk and more action" on this issue from the organisation.
Baroness Anelay will also highlight UK experience in Afghanistan, Nigeria, Iraq, Pakistan, Syria and Libya to promote women's participation and urge for an enhanced focus in the OSCE on preventing sexual violence in conflict.
In the week following the appointment of the UK's second female Prime Minister, Baroness Anelay will meet with the head of the OSCE Gender Unit to discuss how the organisation can better promote gender equality and empowerment across the region and more effectively integrate gender issues across all aspects of its work.
In line with the UK's promotion of universal human rights, Baroness Anelay will hold discussions on other important areas of OSCE activity. This includes hearing firsthand from journalists working in challenging environments in the OSCE about freedom of expression and meeting OSCE officials to discuss the abolition of the death penalty and work to counter human trafficking.
Baroness Anelay said:
The OSCE's comprehensive approach to security in Europe is more important and relevant than ever. I am delighted to visit Vienna to emphasise the UK's continued commitment to the organisation and its work to prevent conflict and promote human rights.

The UK leads the world in urging greater women's participation in all aspects of peace and security, tackling sexual violence in conflict and promoting human rights. But to be successful, concerted international efforts are needed. I hope my visit to the OSCE will be a catalyst to redouble our collective efforts.
Further information
Published 19 July 2016