Press release
Baroness Anelay opens event to mark 150 years of International Humanitarian Law
The FCO today co-hosted an event with the British Red Cross marking 150 years of Geneva Conventions and International Humanitarian Law.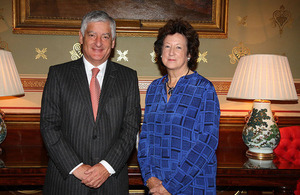 Following the event Foreign Office Minister for Human Rights Baroness Anelay said:
I was pleased to open the event '150 years of International Humanitarian Law: the UK experience' at the Foreign Office today which we co-hosted with the British Red Cross to mark 150 years since the first Geneva Convention. The UK has played an important role during the last century and a half in the development and promotion of international humanitarian law and today we are at the forefront of international efforts to promote the rule of law and minimise the devastation of war. As we heard today from a range of experts, including Professor Sir Adam Roberts, Rt Hon Jeremy Wright the Attorney General and Colonel Charles Garraway, Vice-President of the International Humanitarian Fact-Finding Commission, it is clear that while much progress has been made this remains one of the greatest challenges to be faced by the international community .

In order to meet this challenge the UK is working closely with other states and the International Committee of the Red Cross on an initiative to strengthen the mechanisms of compliance with IHL. It is also why we remain resolute in our commitment to international justice and the global fight against impunity through our strong support to the International Criminal Court, and the other international war crimes courts.
Further information
British Red Cross on International Humantarian Law: Protecting people in conflict
Follow Baroness Anelay on twitter @JoyceAnelay
Follow the Foreign Office on twitter @foreignoffice
Follow the Foreign Office on facebook and Google+
Published 29 October 2014