News story
Baroness Anelay comments on Amnesty's Death Penalty report
Minister for Human Rights welcomes the reported decrease in number of executions and reiterates the UK's opposition to the death penalty.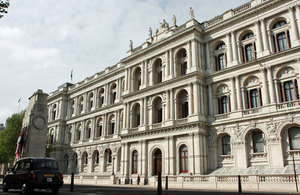 Baroness Anelay said:
It is encouraging that there was a reported decrease in the number of executions in 2016. I welcome the fact that compared with the previous year, fewer countries imposed death sentences and carried out executions. The Government's opposition to the death penalty is clear; we condemn it in all circumstances.

It is concerning that Iran, Iraq, Pakistan and Saudi Arabia have reportedly carried out 87% of the world's executions. It is also deeply troubling that the report indicates that China continues to execute in the thousands. I urge those countries – and all countries that continue to impose the death penalty - to reconsider its use and to acknowledge its ineffectiveness as a deterrent and its inhumanity.

The global trajectory is towards abolition, with countries that retain the death penalty becoming an increasingly isolated minority. The UK supports this trend and is funding projects in a wide range of countries to promote abolition. UK Ministers and diplomats raise our objection to the death penalty and support for reform at every appropriate opportunity. The UK will continue to support the UN global moratorium on use of the death penalty as a first step towards ultimate abolition.
Further information
Published 11 April 2017