News story
Bank of England - People's Bank of China swap line
People's Bank of China Governor Zhou Xiaochuan met Bank of England Governor Mervyn King today during Governor King's visit to Beijing.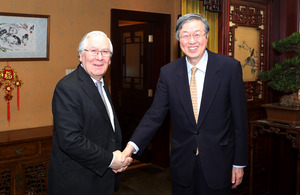 They agreed to facilitate discussions on the establishment of a reciprocal 3-year, renminbi/sterling currency swap arrangement. The arrangement would be used to finance trade and direct investment between the UK and China and to support domestic financial stability should market conditions warrant. They have agreed that the Bank of England and the People's Bank of China would work together to sign the final agreement shortly.
Commenting, Governor King said:
London is growing rapidly as a centre for RMB business. The establishment of a sterling-renminbi swap line will support UK domestic financial stability. In the unlikely event that a generalised shortage of offshore renminbi liquidity emerges, the Bank will have the capability to provide renminbi liquidity to eligible institutions in the UK. Our announcement today marks a significant milestone in constructive bilateral dialogue between the Bank of England and the People's Bank of China. I am grateful to Governor Zhou and the staff at the People's Bank of China for their contribution to this collaborative dialogue.
The UK Chancellor of Exchequer George Osborne said:
This agreement between the Bank of England and the People's Bank of China is an important step that cements London as the western hub for the fast-growing Renminbi market. It is another sign that in the global race Britain is seen as open for business by emerging and established markets alike. We have already seen evidence in 2013 of a significant increase in Renminbi trade in London, and today's announcement supports Britain's ambition to build a thriving Renminbi market in London.
Further information
There has been a significant increase in RMB trade and FX volumes in London in the first six months of 2012. This is shown in a report published by the City of London: (a) Average daily spot FX volumes increased by 150% to US1.7 billion reflecting greater liquidity in the pool of offshore RMB. (b) Trade services grew to RMB 2.2 billion, a 390% increase compared to the six month average for 2011, and the volume in letters of credit grew 20 times to RMB 3.7 billion.
In November 2012, China Construction Bank (CCB) issued a 1bn RMB bond out of its London subsidiary. HSBC, ANZ Bank and Banco do Brasil have all issued bonds out of London over the past year, reflecting the truly international nature of London's financial centre.
London's development as an RMB market follows the landmark agreement at the UK-China Economic and Financial Dialogue in London in 2011, where Chancellor George Osborne and Vice-Premier Wang Qishan agreed to support the private sector led development of the London RMB market.
Offshore RMB, widely denoted as CNH, refers to any RMB used outside of mainland China. Liquidity can move freely between a number of other offshore centres, including Hong Kong (the H in CNH), London, Singapore and Taiwan.
For further information on the City of London Corporation's initiative to develop London as a centre of renminbi business, please click here.
The City of London report on RMB business volumes can be found at here.
Published 22 February 2013