Press release
Award-winning property project saves £60m for the taxpayer
Government agencies are saving taxpayers £60 million by housing their headquarters under one roof in an award-winning project.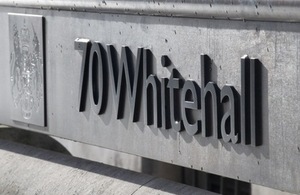 7 government agencies are moving their HQs next year to a newly renovated 80,000 square foot building in Bloomsbury Street, London, releasing 8 properties back to the open market. The deal reduces the government's property footprint by 110,000 square feet.
The project was coordinated by the Cabinet Office's Government Property Unit (GPU), alongside 9 other departments and agencies, and won this year's Award for Excellence in Property Management from the Association of Chief Estates Surveyors (ACES).
Francis Maude announced this project in a speech to the Workplace Network and Worldwide Workplace Web Conference today (2 December 2013) - read the full speech here.
The tenants for the new building are:
Sport England – releasing space at Victoria House, Bloomsbury
UK Sport – releasing space at 40 Bernard Street, Russell Square
Arts Council England – releasing 14 Great Peter Street, Westminster
Children and Family Court Advisory and Support Service (Cafcass) – releasing space at Wells Street, Fitzrovia, and Charter House, Ilford
OFWAT (The Water Services Regulation Authority) – releasing space at Eland House, Victoria
Horserace Betting Levy Board – releasing an office suite at Parnell House, Victoria
Office of the Immigration Services Commissioner – releasing space at Counting House, Southwark
Since 2010, GPU has helped raise more than £1 billion for the public purse by disposing of more than 770 freehold properties.
Francis Maude, Minister for the Cabinet Office and Paymaster General, said:
This government has a long-term plan to drive up efficiency because hardworking-families expect us to make the best possible use of office spaces.

I'm delighted that this award-winning project will save taxpayers millions and will release property elsewhere.

Congratulations to all who pulled this off – it's a great example of how we can use our property estate more effectively by coordinating across different departments and agencies.
The building, which formerly housed the Insolvency Service, has been completely renovated internally to offer a modern working environment. It cuts down on the space used and operating costs by sharing services such as the reception, conference suite, showers and cycle store.
Notes for editors
All the tenants for the new building are moving their headquarters to Bloomsbury Street, apart from OFWAT, which is relocating just its London office.
The 9 departments and agencies the GPU worked with on the deal were the tenants for the new building, plus the Department of Business Innovation and Skills (the Insolvency Service's parent organisation) and the Department for Culture, Media and Sport (the parent organisation for: Sport England; UK Sport; Arts Council England; and England Horserace Betting Levy Board).
The money saved is over a period of 10 years based on the annual savings for the leasehold of each property released and the duration of the lease at 21 Bloomsbury Street.
GPU leads the government's property strategy across the public sector and is responsible for delivering savings as well as improving sustainability and providing a more modern environment.
Find out more about the government's property strategy in Francis Maude's speech to the Workplace Network and Worldwide Workplace Web Conference on 2 December 2013.
Published 2 December 2013