Award-winning journalists visit UK
The winners of the 2011 'Inquirer Awards' for investigative journalism in the Middle East today met FCO officials as part of a UK visit.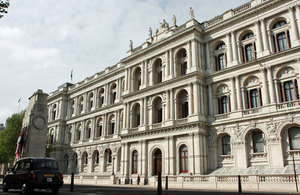 The winners of the 7th annual Inquirer Awards were announced in a ceremony held in Amman on 6 February. This prestigious regional competition is sponsored by the UK Arab Partnership Programme, and recognises and promotes local investigative journalism in the Middle East. It is managed by the Thomson Foundation. The winners received a study visit to the UK as part of their prize and are meeting with both media organisations and government officials.
Raeda Hamra and Fadi Ramahi took first prize in the TV category for their broadcast into the environmental conditions in Al Hashmiya district in Jordan. Maha Shahwan won the print category for her report into rape cases within the same family for Al Risalah newspaper in Gaza, and Mahmoud Allayyan's photo of a 14 year old Palestinian boy coming face to face with an Israeli soldier for Al Quds newspaper in Jerusalem was awarded first place in the photography category.
Speaking during their visit to the Foreign and Commonwealth Office, Raeda Hamra said:
"Winning this award has increased my skills and abilities and the incentive to work harder and focus on bigger issues. My dream is to uncover a big issue in any of the Middle East countries."
Maha Shahwan described the award as:
"A life-changing experience. After three years of hard work, I was able to prove myself within the community of journalists working in Gaza. I now intend to raise the bar and one day hope that my reports will be understood by the rest of the world."
Also speaking, Mahmoud Allayyan said:
"This award means so much to me and has given me the incentive to present the truth as it is, even if it is good or bad."
Published 21 March 2012