News story
At risk of export: Italian marble sculpture of two sisters dancing
Culture Minister Ed Vaizey has placed a temporary export bar on a marble sculpture of two young ladies dancing by the neoclassical Italian sculptor, Lorenzo Bartolini.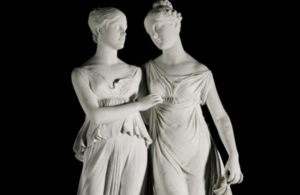 The sculpture will be exported overseas unless money can be found to match the asking price of £523,800.
This beautiful and remarkable sculpture, thought to have been displayed at Inveraray Castle, Argyll in Scotland since it was first commissioned in the early nineteenth century, before in recent years, being placed on loan to the Scottish National Gallery, portrays two young women - the youngest daughters of Lady Charlotte Campbell - stepping forward in a dance. The rare piece, inscribed with an intriguing dedication to the renowned British artist John Flaxman, is the only example of a major British commission of a figure group given to Bartolini, who was to become one of the leading European sculptors of his day. Specialising in portraiture, but also producing mythological and genre subjects in marble, Bartolini combined a pure classicist style with a naturalism which came from his training and working in France. With this dynamic group's sense of movement, the artist has successfully suggested the youth and vibrancy of the two sisters.
The Minister has deferred granting an export licence for the piece following a recommendation by the Reviewing Committee on the Export of Works of Art and Objects of Cultural Interest, (RCEWA) administered by Arts Council England. The Committee made their recommendation on the grounds that it is of outstanding aesthetic importance, and of outstanding significance for the study of Bartolini, the development of British neoclassical sculpture and the British cultural connections with Florence in the nineteenth century.
Culture Minister Ed Vaizey said:
This vibrant work, depicting two sisters dancing, demonstrates the exceptional skill of an outstanding sculptor. It is a rare example of a British commission for Bartolini, and provides a fascinating insight into the cultural history of the British presence in Florence during the period. I sincerely hope that funds can be raised for a matching offer to keep the sculpture in the UK.
Lowell Libson from the RCEWA said:
This remarkable and ambitious portrait sculpture by the leading Italian sculptor after the death of Canova demonstrates not only the suavity of Bartolini's synthesis of neo-classical and Florentine tastes but that of his aristocratic British patrons. It stands as one of the most outstanding commissions of the period.
The decision on the export licence application for the sculpture will be deferred for a period ending at midnight on 8 April 2015. This period may be extended until 8 July 2015 if a serious intention to raise funds to purchase the piece is made at the recommended price of £523,800.
A picture of the sculpture can be found on our flickr site.
Background Information
Organisations or individuals interested in purchasing the works should contact RCEWA on 0845 300 6200.

Details of the work are as follows: The Campbell sisters dancing a waltz, Lorenzo Bartolini white marble on a white marble plinth, circa 1820 height 170cm

The Reviewing Committee on the Export of Works of Art and Objects of Cultural Interest is an independent body, serviced by Arts Council England, which advises the Secretary of State for Culture, Media and Sport on whether a cultural object, intended for export, is of national importance under specified criteria.

Arts Council England champions, develops and invests in artistic and cultural experiences that enrich people's lives. Between 2010 and 2015, it will invest £1.9 billion of public money from government and an estimated £1.1 billion from the National Lottery to help create these experiences for as many people as possible across the country. www.artscouncil.org.uk
Published 9 January 2015