Ask Defra your questions about the badger cull
Defra's Chief Scientist Professor Ian Boyd and Chief Vet Nigel Gibbens answered questions about the badger cull pilots  live on Twitter on Wednesday…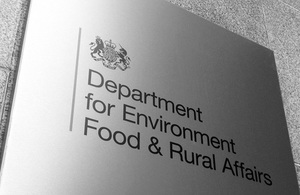 Defra's Chief Scientist Professor Ian Boyd and Chief Vet Nigel Gibbens answered questions about the badger cull pilots  live on Twitter on Wednesday.
They answered questions from 12-1pm via our Twitter account @DefraGovUK about the science and evidence upon which the policy is based, and the Government's wider approach to tackling the spread of TB in cattle.
The live Twitter Q&A on the badger cull has been collated on Storify.
Published 16 October 2012