Ash disease found in Kent and Essex
The disease has now been confirmed in trees in 14 nurseries, 36 planting sites and 32 locations in forests and woodlands.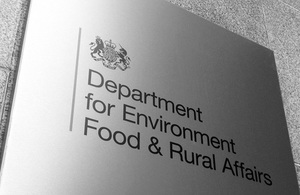 The tree disease Chalara, also known as ash dieback, has been confirmed in forests and woodland in Kent and Essex after an urgent survey to seek out traces of the disease in Britain's established woodlands.
The confirmation of Chalara in Kent and Essex does not mean the disease has spread since the first case in woodland was detected in East Anglia. It is believed that the disease in East Anglia may have been present for a number of years, and is likely to have been transmitted by wind from the mainland Europe. The same is likely to be true for the cases in Kent and Essex.
Of the thousand sites initially surveyed, plant health experts are undertaking an urgent check of 220 prioritised sites which have had saplings from nurseries where Chalara was found to be present.
They are also prioritising the examination of around 2500 blocks of land, each 10 kilometres square, where mature ash trees are known to be present in order to seek out traces of the disease in our established trees.
Environment Secretary Owen Paterson said:
"We're doing everything we can to identify where the disease is so that we can focus our efforts on those areas. Once we had the scientific advice that the disease in mature trees had probably arrived here by wind from Europe, it was always likely that we'd find it in coastal areas. Sadly that's the case with the confirmation today of the disease in Kent and Essex. I would expect even more cases to be confirmed as our urgent survey of ash trees continues.
"We will have the results of the initial survey in time for a major summit on tree and plant health later this week. Scientists, charities, landowners and the horticultural industry will meet  to agree the next steps for how we can work together to control this threat to our ash trees.
"Over the weekend hundreds of people, both plant health experts and volunteers, were working flat out to find traces of this disease. I particularly want to thank the work of volunteers from organisations such as the Woodland Trust, the National Trust, the Country Land and Business Association and our National Parks who have given so much of their time."
A specialist team of staff has been set up, pulling staff from Defra, Fera, Forestry Commission, Natural England and the Environment Agency to be deployed in surveying forests for signs of Chalara in ash trees.
The ash tree is a native British species of tree, providing around five percent of all woodland cover. Chalara is a serious disease that has affected a high proportion of ash trees in northern Europe and which was confirmed as present in nursery stock in the UK in March
Government scientists set out the most up-to-date understanding of the disease. Their assessment agreed with the earlier Pest Risk Analysis carried out in August and concluded that:
• the spores are unlikely to survive for more than a few days;
• spore dispersal on the wind is possible from mainland Europe;
• trees need a high dose of spores to become infected;
• the spores are produced from infected dead leaves during the months of June to September;
• there is a low probability of dispersal on clothing or animals and birds;
• the disease will attack any species of ash;
• the disease becomes obvious in trees within months rather than years;
• wood products would not spread the disease if treated properly;
• once infected, trees can't be cured; and
• not all trees die of the infection, and some are likely to have genetic resistance.
Government scientists are working with their counterparts in other countries to learn from existing and emerging research and practical experience in combating the disease in countries which have had it for longer than the UK.
Government scientific experts are also approaching companies with proposed treatment solutions for Chalara to rapidly evaluate their research to see if they have potential for further testing and development.
Notes
**For further information on ash dieback visit www.forestry.gov.uk/chalara.
Published 5 November 2012