Artillery regiments start Diamond Jubilee year with a bang
Various artillery regiments have been firing salutes across the country today to mark the 60th anniversary of the accession of Her Majesty The Queen to the throne and the formal start of her Diamond Jubilee year.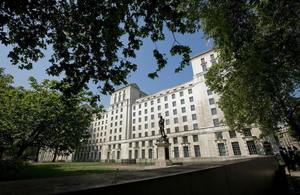 In London's Hyde Park, 71 horses from the King's Troop Royal Horse Artillery, pulling six guns, dramatically galloped across the lawns, before getting into position to fire a 41-gun salute at noon.
The King's Troop Royal Horse Artillery arrived in the park having been cheered by two-and-a-half-thousand schoolchildren in the morning as they rode through St John's Wood for the last time.
They will be arriving at their new purpose-built equestrian training facility and accommodation centre in Woolwich Garrison tomorrow.
Meanwhile, the Honourable Artillery Company (HAC), the City of London's Territorial Army Regiment, also fired a salute from Gun Wharf at the Tower of London at 1300hrs.
The HAC provided three L118 ceremonial Light Guns, similar to those currently used in Afghanistan, and fired a 62-gun Royal Salute.
Whilst a Royal Salute normally comprises 21 guns, increased to 41 if fired from a Royal residence, 62 rounds are fired from the Tower on Royal anniversaries; the additional 21 guns for the Royal Salute are for the citizens of the City of London to show their loyalty to the monarch.
In Scotland, Gunners from 105 Regiment Royal Artillery (Volunteers) fired a 21-gun Royal Salute at Edinburgh Castle at noon.
Commenting on the salute, Commanding Officer of 105 Regiment Royal Artillery (Volunteers), Lieutenant Colonel Chris Huthwaite, said:
105 Regiment Royal Artillery (Volunteers) is honoured to be firing a 21-gun Royal Salute today, as the nation begins its tributes on this unique year, celebrating Her Majesty's 60th anniversary accession to the throne.
Royal Salutes were fired by artillery regiments in twelve saluting stations today, including in Belfast, Cardiff and York.
Published 6 February 2012